Senior Olympics
While the shell might be aged, the spirit is undaunted.
---
by Tim Tadder on Dec. 6, 2020
---
I try to portray subjects in a way in which I feel represents their power and strength. Whether it's an 89-year-old marathon runner or is a 22-year-old NFL MVP, I don't approach them any different. While the shell might be aged, the spirit is undaunted. Aging isn't stereotypically seen as powerful and strong, that's a challenge I embraced when commissioned to capture the spirit of athletes competing in the National Senior Games presented by Humana. In 2003, I shot Gordie Shields, a San Diego based Senior Olympic Athlete as part of a personal project.
The image created of Gordie helped propel my career forward, so when Humana presented me with the opportunity to capture portraits of inspiring senior athletes, I jumped at the chance. Over two days in a hotel conference room I was overwhelmingly inspired by the passion and energy of my subjects. Blown away would be an understatement and motivated to improve my own strength and fitness level. The stories shared and the connections made, left me energized to take on the world.
---
"While the shell might be aged, the spirit is undaunted."
---
I think that statement is an excellent summation of the project. I can't recall where those words came from, but I think I may have read it in an article and did my best to capture it's sentiment. We all feel that while the capsule that carries our spirit wears down with the mileage of time, our mind, our goals, our passions never seem to age. I know I barely recognize the man in the mirror, because my spirt still has me as an invincible athlete that can accomplish anything. The wake-up call is always the morning after a colossal mountain bike ride, where my body is sore to the core, so it's true that reality does bite.
When you are working with real people – who have never been on a set before – you have to win their trust, connect with them. Some of these people are standing in bathing suits in front of 20 people watching and filming them in a very exposed and fragile state. I have to draw the attention away from them and onto me, making them focus on me and the lens, not the circus behind me that includes producers, BTS crew, clients, PR agencies, other athletes, their friends, family, and a bunch of other crew. It's very intimidating; I understand that and make sure that they feel comfortable by really taking control, providing tons of empowering and positive feedback. When they walk off-set, they feel incredible, and they are usually beaming. We always make it an experience; it's as important as the image itself.
Behind the scenes with Tim Tadder and Humana for the National Senior Games
---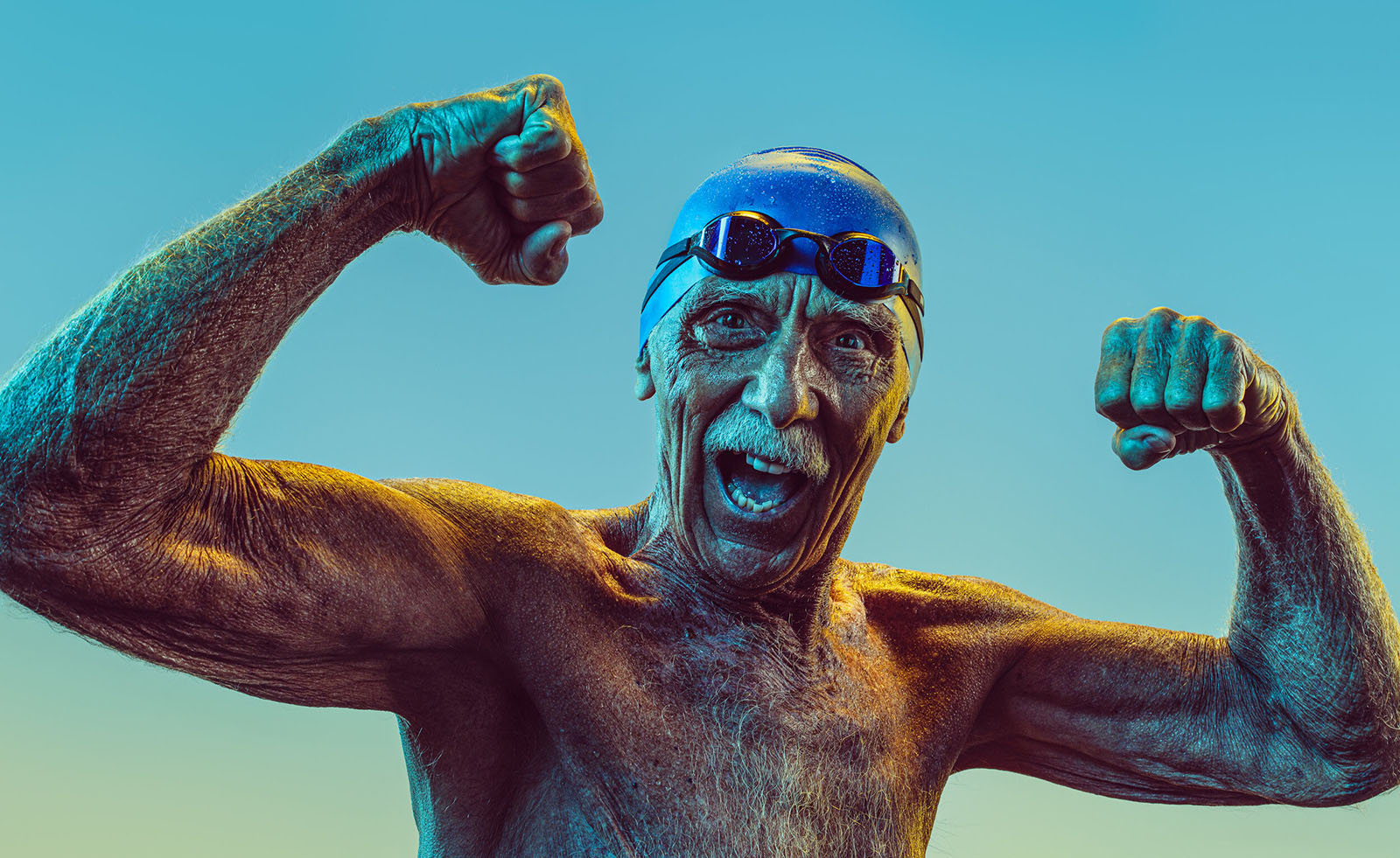 ★ Follow Tim Tadder on Instagram ★
©2020 Tim Tadder. All rights reserved.
More About Tim Tadder
I draw upon my experiences as a teacher and a team player to plan better, problem solve smarter and push myself, the talent and crew to deliver the very best performances possible. Success is the cumulative effort of all the little things along the way that make the work great. I am still climbing, scratching and clawing my way towards being my very best. I still approach every opportunity to make images both moving and still with the same passion as my very first assignment. The craft of creating is never lost on me. Today I am the best version of myself - I've evolved into a producer, director, writer and photographer, a true visual communicator. I am leveraging all the lessons l learned to make shrewder choices, be more efficient, and amplify my effectiveness to communicate.