Life on Pause (Part 1)
A personal project documenting life in quarantine. The new normal.
---
by Kevin Steele on April 3, 2020
---
The world has shifted to a new normal. Each day brings difficult news of the seriousness ahead. These are unprecedented times. You may know me as a commercial advertising photographer, life full of color and emotion. This brings me back to my roots documenting life. These days bring us together no matter how we are physically apart. Shot with one camera & one lens, photographs are being added daily. I am being extremely safe: mask, gloves, Clorox wipes and distance. Shooting from outside in.
Shot through the front door, being safe, into the space of self-isolation revealing life apart and together.
This is Jacqueline and Lucifer.
"I've never seen anything like this before. I've lived through many national disasters and other viral outbreaks but never seen such a response. Will masks & 6 ft distancing become a way of life? We are waiting and watching to see what unfolds both socially and culturally."
This is David.
This was one of the first days of the pandemic. We shot for five minutes before he hopped into his car to head to another state.
This is Tanya and her family.
"How terrible and tragic this is. We've been trying to look for the positives. Our lives are usually really frenetic and overscheduled. We're hardly able to eat dinner together as a family. Now we have the gift of time. There's no rushing anymore. People are helping each other. I've cried tears for others. A lot of my friends own small businesses and it's unknown, you know? I hope they all survive."
This is Antoinette.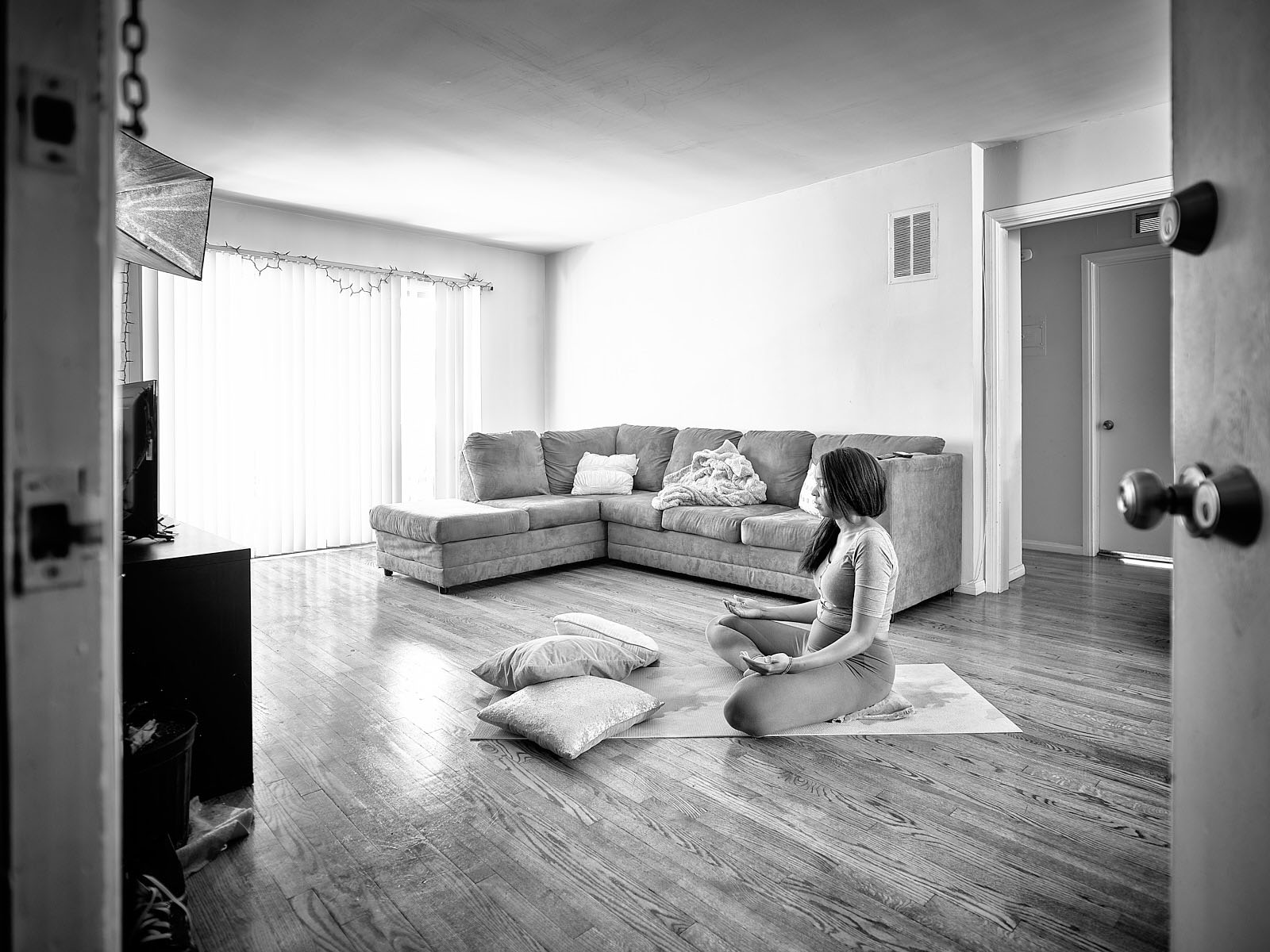 "At first I was afraid, and paranoid and Oh my God I can't stand next to anyone and that affects my work… Then I started binge eating and that was not a good thing to do…it made everything feel worse. And then I started to meditate and stretch, looking deeper within myself. What was I really doing with my life? If life never returned to the way it was before the virus was what I was doing worth it? I was caught up in what I thought life expected of me instead of me finding out what I expect of myself first"
This is Simon.
"Sitting on the deck overlooking Topanga Canyon eating half my bodyweight in hummus and chips I feel really connected to not just the abundance of nature around me but also to the gazillions of people all over the world living through this strange time. The level of connection with friends and family (I'm English) scattered around this planet of ourshas surprisingly increased even as we are all hidden away; a part, though apart. The days are blending, I'm binge-watching OZARK, doing makeshift 'Hillbilly' workouts between endless cups of tea, and marveling at nature in full swing around me even as we are all are forced to re-asses our priorities and hit the reset button."
This is Amber. And Lance.
"The quarantine took us all by surprise. We had a fully booked March as entertainers. The year seemed to just be getting started. Instead it's left me an actor out of work and in the middle of trying to get my car fixed and Lance a rockabilly performer with no tour or income. Leaving us not really being able to do much but be creative with the time we have and hope for the best. Maybe we all just needed a break to reflect?"
This is Luc.
"Spend some time within yourself and to rest. It's brought a different kind of inspiration not having anywhere to be. Maybe a blessing in disguise for the creative side of things."
This is Patrick.
"I could use my free time to be more productive, I guess. But staying motivated is hard when the signs say the 2020's may already be a lost decade. That's what I think right now."
This is Steven.
A performer & writer. We showed up to his show the night before the quarantine and the place was shuttered.
This is Michael.
He hears news from Italy everyday. Here he's listening to jazz & braising something delicious the whole neighborhood can smell.
If you're in LA and wish to participate in the Life on Pause project, let me know.
★ Follow the Life on Pause project on Instagram ★
©2020 Kevin Steele. All rights reserved.
More About Kevin Steele
It's all about feeling: Creating an emotional connection in images that range from quiet and still to explosively dynamic. Kevin love's shooting people with a zest for life – working fast and light or crewing up as needed for both stills and motion production with a great team. Every assignment is an opportunity to create something extraordinary....and have a lot of fun. Authentic, emotional, time-slowing, cinematic imagery is how Kevin sees the world for recent clients ranging from American Express, Four Seasons, Delta Airlines, and Norwegian Cruise Lines to travel/tourism and healthcare campaigns.