Child Trafficking
The Aftermath of Sexual Slavery
---
by Cary Jobe on June 30, 2020
---
In India and Nepal girls and women are valuable commodities. They are sold, unwillingly into unsafe brothels where disease and early death are common. In Mumbai (Bombay), decaying slums offer shelter, with half the city's population living on the streets. Falkland Road, the cities famous red-light district, is at the heart of the city. Flies swarm around rotting food and garbage litters the streets. Women and girls in vibrant colored dress stand quietly in doorways, while others peer from barred windows above. They are not permitted on the streets, entirely banned from free movement. Men from all walks come to solicit services throughout the day.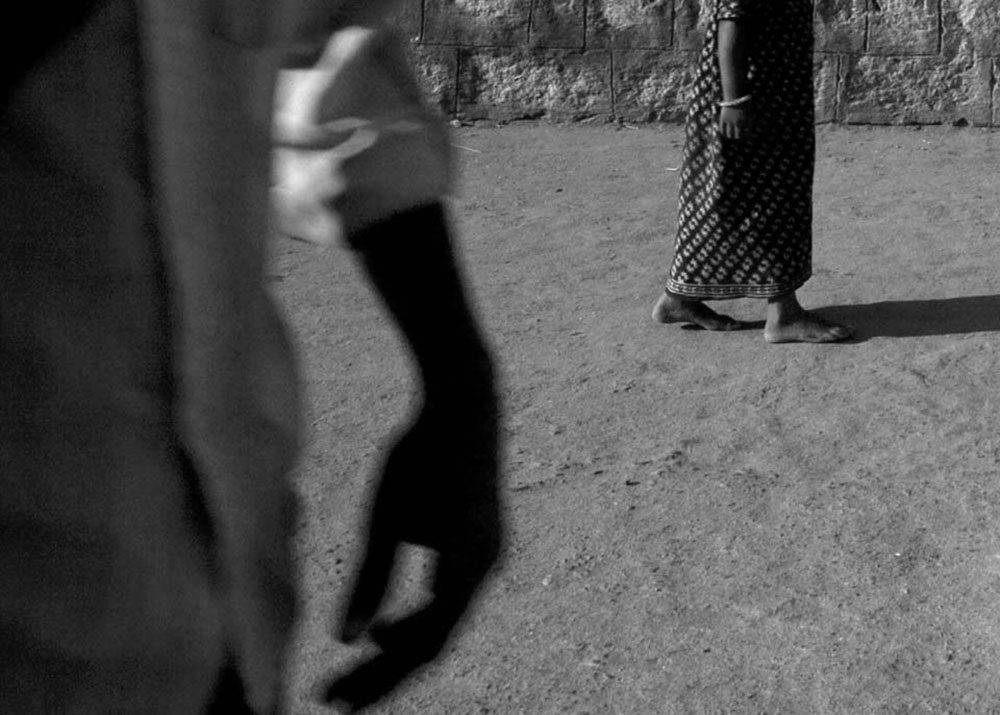 My initial interest in child trafficking began in 1994 when I met a couple who had established a safe-house in Katmandu and expressed the need for more attention to be given to the human rights violations occurring there. In 2004, I went to Nepal in order to explore the issues of child trafficking as a photojournalist and support person. I began by establishing a rapport with NGO's and other persons working in the field. I spent the majority of my three-months there establishing relationships with girls who had been rescued from the Indian brothels as well as with rescue foundations and safe houses. In particular, I became very familiar with an NGO called the General Welfare Protisthan (GWP) based out of Katmandu but working primarily near the open borders of Nepal to India, as well as a safe house in Mysore, India called Odanadi Safehouse.
The GWP is actively involved in rehabilitating trafficked females, educating girls and women about HIV while also helping them to identify traffickers and create alternative income generating work projects. Their work is mostly done in Hetauda, Nepal from which I have a body of work, not submitted today.
After my time with the GWP in Hetauda, Nepal, I visited Birganj, the open border between Nepal and India where the majority of trafficking occurs. I wanted to witness the NGO's work in action at the border and see how easy it is for a girl to be taken across lines. I continued from there southward to Mumbai, where I briefly experienced India's Red-Light District firsthand, accompanied by the Rescue Foundation. From here I went further south and became enamored by an amazing safe house in Mysore, India, called Odanadi. On this first trip, I actively interviewed and photographed both girls and women who were involved with and who had been rescued from sexual slavery.
My second three-month, out of pocket trip back for the same project occurred again in 2009. This time I focused solely on Odanadi safehouse. This series of images is a combination of the two trips, minus Nepal.
Human trafficking exists well beyond the borders of India. The number of victims varies from agency to agency where such data is collected, but all report staggering figures.
The U.S State Department estimates between 600,000-800,000 individuals are trafficked annually across international borders; millions internally. These figures include those taken against their will for labor as well as sexual exploitation. The United Nations Children's Fund (UNICEF) estimates 500,000; the United States Agency for International Development (USAID) puts the figure at 4 million.
The victims at Odanadi number 86.
They are not statistics. They are Sindhee, Mangala, Pallavi, Anitha, Shashi, Rashmi, Ganesh, Ramesh. . . and the list goes on. Most of the girls have been rescued from brothels, the boys, who live nearby on a separate campus, from domestic servitude and sexual exploitation.
---
All have found a home at Odanadi, which in the poetic native Kannada language means "one who walks hand in hand though life's long journey, a friend for all seasons."
When I took the shot of the girls' hands, I found them playing on their playground having fun seeing what shapes they could create on this wall with their shadows. It felt like I was witnessing them recreate themselves through their shadow play, my camera as witness.
Then the rains came that eve and washed the walls clean again.
Can you imagine yourself as she; bound by sexual servitude at age 10… servicing 20 men a day? Weren't most of us jumping off swing sets then?
Odanadi Safehouse to me = freedom and breath. Yoga, school, art, karate, acting, play. No debt, no obligations, no fear… just friendships, breath, hope, strength…. RESILIENCE. That these girls are. Resilient with capital R's.
See for yourself through these images...
---
---
---
---
---
---
This is a project I would love to continue. If you are interested in helping to fund this project, please be in touch (contact info on my profile). Satnam!
★ Follow Cary Jobe on Instagram ★
©2020 Cary Jobe. All rights reserved.
More About Cary Jobe
I love immersing myself in any project whether that be studio or location. I work hard to elevate the imagery through layers and lighting and enjoy working with all types of people, channeling creative energy into the production of stunning visuals... sometimes with a dream team of art directors, stylists, assistants and client on set, and sometimes just myself, my assistant, and my camera. I enjoy both approaches. My work encompasses portraiture, fashion, branding projects, commercial shoots for US and international companies, as well as months-long humanitarian NGO collaborations. I have shot throughout the U.S. as well in Mexico, South America, Europe and Asia, including a six-month project in Nepal and India documenting young girls rescued from the brothels of India.
My personal aesthetic tends toward soulful, fresh and layered but with my wide-ranging experience working for many years as a magazine staff photographer and photo editor, I take a pragmatic, albeit creative approach to any project that prioritizes my client's desired results and budget.