Exploring The Sikh Project: A Q&A with Amit & Naroop
---
by Christopher Armstrong on Oct. 22, 2016
---
London-based photographers Amit & Naroop have taken on the awesome responsibility of capturing the essence of the modern Sikh with the aptly titled, "The Sikh Project". They've moved passed the usual stereotypes by creating 74 portraits of British and American Sikhs in a wide variety of roles. Some are playful, some are serious, some are with children, and others just working professionals trying to build a successful career.
With their portraits, there is no sense of "us and them", they are simply beautiful and proud individuals with a rich and colourful tradition, making their way through everyday life. Amit and Naroop have succeeded in normalising a culture that the west has very often misunderstood — they've turned fear into fashion and the modern Sikh into an icon. Keep looking around, the turbans and beards are showing up everywhere — in film, in advertisements, and as an integral part of a blended western society.
Amit and Naroop were kind enough to talk a little about their work, how they approached such a daunting project, and what they hope to accomplish with it.
CA: Have you always focused on subjects as iconic as what you have in The Sikh Project?
A&N: As portrait photographers, when doing personal projects, we always try to photograph interesting, real people. We love photographing people who have never had a professional photo taken. People who have never stepped into a studio. There is a rawness, a realness that come out of them, and it is this that we are attracted to.
Our job is to then make them look iconic. To create an emotional response. To make the ordinary look amazing.
CA: Did you find it difficult recruiting the Sikh models for this project? For the ones that declined, what was their apprehension?
A&N: It all started in the UK, and yes, initially it was very difficult. It is always hard to share a vision with people, especially if they are not creatives.
We used to approach people and tell them our idea and they would laugh with comments like, 'who is going to want to look at picture of people with turbans'.
We realised that we couldn't simply describe what we wanted to do, we had to show people. We convinced the one and only willing subject at the time to come to our studio, and using his finished image, we took our iPad on the street, showing people what the photographs would look like. This changed everything and the project took off.
The main reason that people declined was because they didn't understand the vision and felt it wasn't worth their time. Others suffered from nerves and some were worried about how people may perceive them.
CA: It looks like you had a great time with some very lively models. Were any of them professional models? Or were they all just excited to be in front of the camera? How do you go about managing your talent?
A&N: None of them were professional models. Waris Ahluwalia, is a famous American Sikh and has posed for advertising campaigns, but his main job is as fashion designer. The rest were normal people.
As the project gathered steam, people were excited to be part of it. They could sense the impact it was having globally.*
The way we work also helped to get the most out of the subjects. We always sit down with a subject for ten to fifteen minutes to get to know them and build a relationship with them. This is vital, as it is that relationship that you are viewing in the photograph. Be it laughter, excitement, seriousness or pride, that is what we developed and pulled out of the subject. Communication is everything in portrait photography.*
CA: Did you have to deal with anyone who was shy and introverted? How did you get them to loosen up?
A&N: A few were shy, but we liked that. People always feel that they have to loosen people up, but why? Shyness is an emotion, just like confidence or excitement, so we tried to use that. The results were portraits that had real emotion, a delicateness, a vulnerability and interestingly enough, these images were some of the most popular portraits from the project.
CA: Did you shoot these in a studio? Or did you have a mobile studio that you took with you to meet the models in their own environment? What did the set up look like? Maybe you can share some behind-the-scenes photos?
A&N: The British portraits were photographed in our studio in London. The American portraits were shot in a studio location in New York.
We used Profoto lighting and the setup involved a grey colorama background, two reflectors with grids on either side of the subject, an overhead 2ft x 2ft softbox for a hair light and in the front as our key light we used a white, shoot though umbrella.
CA: I saw that your exhibitions in London and New York just recently ended. Are you planning on taking this work on the road? Where will it be next?
A&N: Yes we are hoping to tour with it across America and we're are aiming for Los Angeles to be our next stop.
CA: What's next? How do you follow up a series like this?
A&N: Well we have The Sikh Project book coming out. It will contain all the portraits from the project, plus a history of how the project came into being, the various places it has been exhibited and a backstory of each subject in the project.
We are also working on a project about Cosplay and the phenomenon of Comic-Con, trying to understand what makes people dress up like their favourite stars or superheroes. Is it just fun, or is there more to it?
---
---
---
---
---
---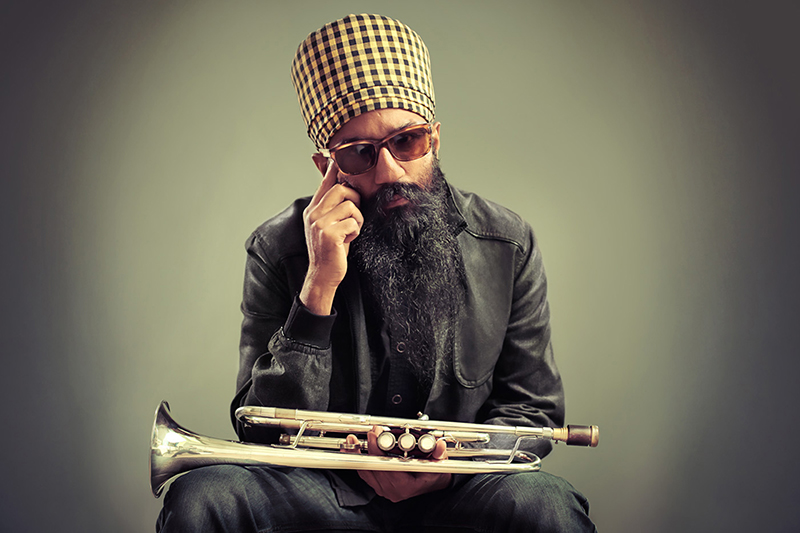 ---
---
---
More About Amit & Naroop
Born into Sikh families and raised in West London, Amit and Naroop came together eight years ago while working on a photo shoot for an unsigned music artist. The shoot went really well and the chemistry was instant. Amit and Naroop was formed.
They continued working in music photography, developing their style and honing their craft, quickly building a name for themselves while shooting some of the industries biggest stars including Tinie Tempah, 50 Cent and Jay Sean.
As time has passed, they have broadened their horizons and their work has expanded to embrace advertising and portraiture, all interpreted with their characteristic passion and intense visual style.
Personal work is very important to them. They are heavily involved in the community, working as mentors for Teenage Cancer Trust helping young, aspiring photographers to realise their dreams.
Through their photography, they also aim to raise awareness on topics and issues that they feel passionate about. The Sikh Project is close to their heart. A marriage of their faith and talent, it represents their identity as British born photographers and their Punjabi, Sikh roots.