PhotoPolitic Review: The Leica Bag by Bill Amberg Studio
---
Posted by Christopher Armstrong on Nov. 1, 2014
---
I've gone through what seems to be every type of camera bag made. From nylon and velcro to canvas to leather, and even one made from a high tech micro fiber. Every bag has served its purpose and every bag has both succeded and failed in a myriad of situations.
Whenever I see a new bag on the market, I always take notice and inevitably, I will without fail give it a try. As I've aged, I do find myself wanting something that I would label as a classic. Leather is my material of choice and even better if it's something handmade. I obviously want something that looks good, but at the same time, it has to perform flawlessly. Easy to get into, easy to secure, and something that will hold up to the elements and do its job protecting my gear.
Now that I've shared my wish list for the perfect bag, I want to introduce you to leather goods guru, Bill Amberg and his unique Leica branded bag. It's designed for a Leica body, a lens, and a few accessories, so it may not fit everyone's needs. But for the reportage shooter or a semi-professional hobbyist on a day out in the city, it may just be the perfect mix of utility and style. Watching Bill Amberg describe the work he has put into this bag is inspiring and reminiscent of an era of craftsmen that has almost completely disappeared.
Coming in at £550 in the UK, it's a little on the spendy side, but if you've got the money to spare, you'll never look so good while your shooting.
Just out of curiosity, what kind of bag are you using? What are your priorities when choosing a bag?
A Thing of Beauty
---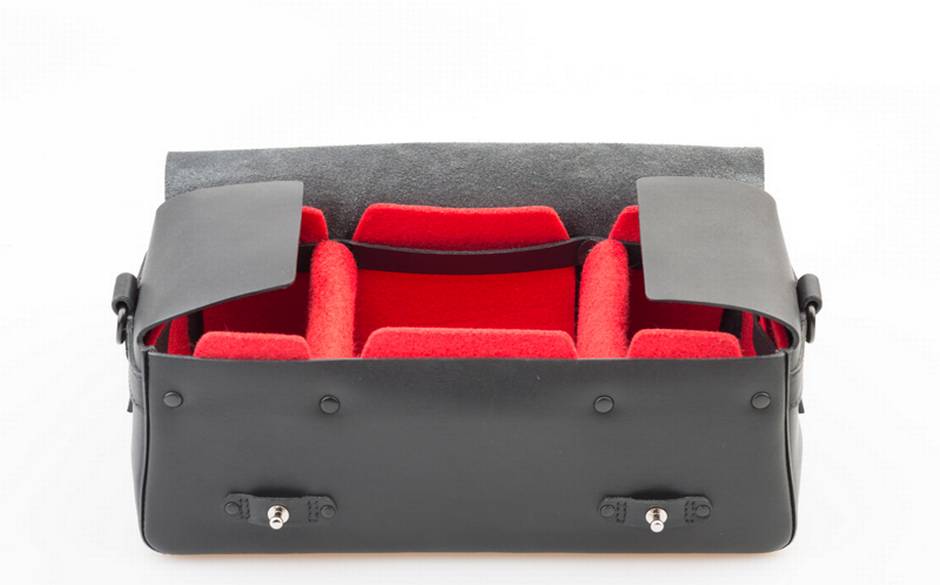 ---
Visit the Bill Amberg Studio Website
More About Christopher Armstrong
Chris Armstrong started as a photographer and worked his way through film, television, advertising, and back to photography (as an agent), Chris has worked with legendary filmmakers (most notably Robert Altman); nearly all of the major production companies in L.A.; and ad agencies (including Deutsch, Publicis, and Wunderman). This experience has given Chris a well rounded (if not dysfunctional) view of the creative world which he's more than happy to share with you.