The Pacific Crest Trail Hikers
A chronicle of their struggles, their personal triumphs, and trail life.
---
by Andrew Burns on July 18, 2019
---
The Pacific Crest Trail (PCT) is a 2,650-mile continuous footpath from the southern border with Mexico to the northern border with Canada. This trail follows the mountain ranges of California, Oregon, and Washington. It takes an average of five to six months to complete.
---
For the last year and a half, I have become more and more interested (obsessed) with the PCT. I find myself daydreaming about thru-hiking several times a week at least. This in combination with a desire to start a new photo project that highlights the stories of real people doing really cool things, led me to the idea of a portrait series of PCT thru-hikers.
Initially, this passion project was just an exercise in creating new content for my photography portfolio. However, it quickly became a really enjoyable pastime. I spent about a dozen or so days this Spring in the Southern California section of the trail. I would day-trip from my home in Escondido, CA or camp for a night or two on the trail. I always bring an ice chest of beer, drinks, and snacks to offer thru-hikers when they stumble upon me. I love my interactions with long-distance hikers. Most are somewhat perplexed when they see me sitting in a camp chair waiting for them to show up. A cold drink and some fresh fruit usually breaks the ice quickly and most become very friendly and open with me in a minute or two. I ask them casual questions, probing into a deeper conversation. Often I ask them if I can record our chats. And of coarse I take their portrait once a rapport has been established.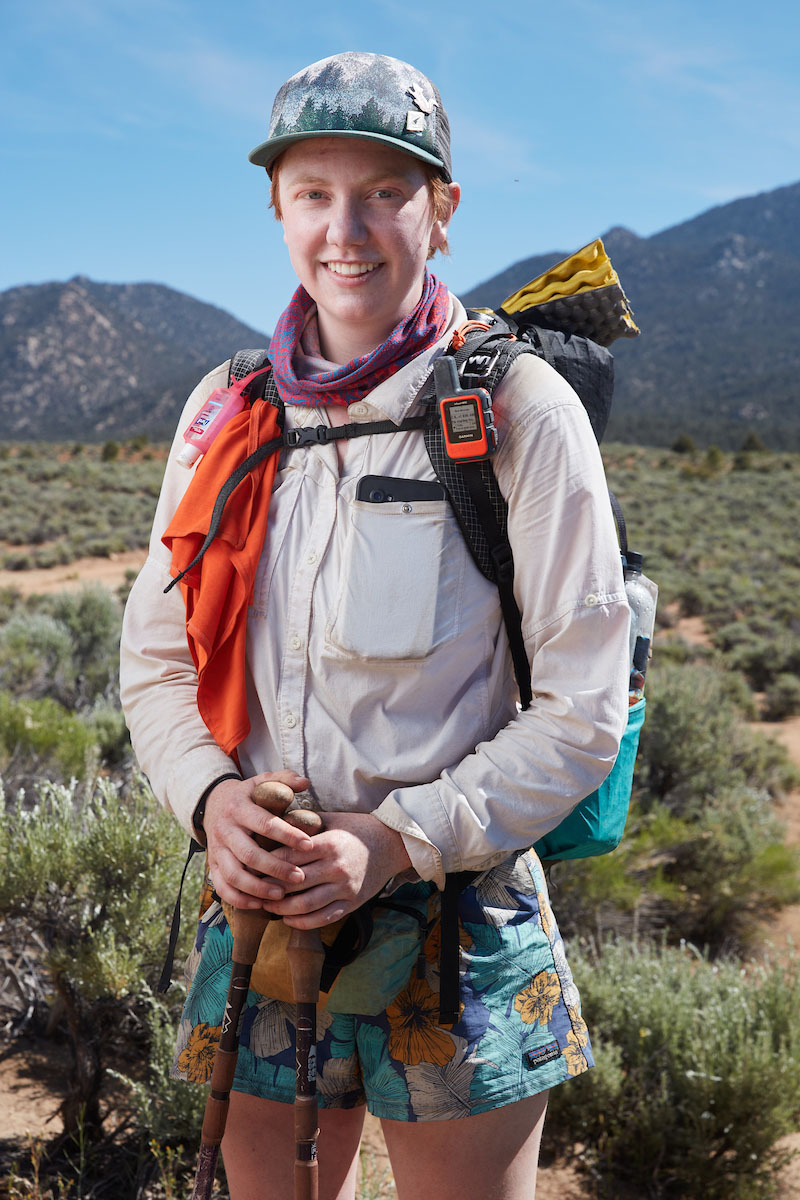 All of this effort is to capture the authentic stories of Pacific Crest Trail hikers. I chronicle their struggles, their personal triumphs, trail life, and the social experiment that is putting people from all different parts of the world, walks of life, ages, and socioeconomic status together on trail. It's vastly interesting to me how authentic and "real" thru-hikers are. I believe it stems from how stripped back their life is. No longer are they in a busy "normal" life setting. Their daily goals are to put on a backpack, climb the ridge and not run out of water or food. Hikers bond with each other very easily over this shared experience. In June, I took a closer look at the 200 portraits I had captured up to that time and realized that this project could be taken a lot further. All those 200 photos were taken in the first 300 miles of the trail. That leaves out the remaining 2,350 miles and more importantly the stories from hikers with more miles under their belt. So I decided to continue this project by making several trips into the Sierras, Northern California, and Oregon this Summer.
The Book: Once I committed to seeing this project through to the end of the Summer, publishing a book became the obvious way to bring my passion for this full circle. The book will be a collection of hundreds of portraits of PCT hikers and their personal stories. Readers will learn why the hikers are on the trail and what motivates them to keep walking. You will hear about their injuries, the things they fear, their families back home, and the families they develop while on the trail. You will get a fantastic look into what makes up a Pacific Crest Trail thru-hiker. I will be launching the book via a Kickstarter Campaign on August 10th.
Follow This Project on Instagram  
More About Andrew Burns
I used to be a daytime manager at a bowling alley. My shifts were spent listening to the concerns of retirees, motivating teenage employees to clean spilled soda, and serving daytime cocktails to moms whose kids were running out on the lanes. This was my education in people. These days, I am a photographer of people. The perfect day for me is meeting someone new, learning about who they are and finding out what motivates them. I love figuring out how to translate that into a photograph.