Paul Barshon in Spain for Identity and Aston Martin
---
by Christopher Armstrong on June 12, 2014
---
If you're not familiar with Paul Barshon, you should be. He's one of the top automotive photographers in the world and spends his time flying to exotic locales creating breathtaking images of incredibly rare automobiles & motorcycles — how's that for an enviable job description?
I first met Paul in 2010 while in London. I had been pursuing him for quite a few months to join my artist agency as my only automotive photographer (at the time). While I wasn't successful in recruiting him, we've been friends ever since. Here's a little shout out to the U.S. agent he did end up with, SternRep — a fantastic agency with an incredible roster of photographers (this shoot for Aston Martin was with his European agent, Trayler and Trayler).
Thankfully, Paul is now based in L.A. and I get to catch up with him every now and again, the last time we spoke, he agreed to share the behind the scenes images from his latest Aston Martin shoot in Spain as well as doing an impromptu Q&A.
Lucky me, lucky you :)
CA: A simple question to start things off — how old were you when you knew you wanted to shoot cars?
PB: Not actually that long ago as my background was shooting motorbikes and I naturally transitioned to cars. However, I have been taking pics as long as I can remember – my first darkroom was in my parents bathroom when I was about 11 years old. All I knew was that I wanted to take photos. I don't have a love for the subject of cars and am not a car fan which is sometimes a little strange but I do love taking pictures of them.
CA: Did you go to school for photography or did you just jump right in and start working with whoever would hire you?
PB: I did study photography at PSC in Melbourne (Australia) for 4 years but to be honest I didn't really learn much there except how to see things differently. I'm a believer in constantly shooting – anything and everything and that is one of the things that I tell anyone that asks how to get a foothold into the industry.
CA: Have you ever had any shoots that were just complete disasters where you knew you would never work with that client again?
PB: I spend a lot of time preparing for a project and I always try and get the best people in my team so I can say that we have never had a shoot go south. Preparation is the key to making our side of the project work out – which is not the same for the agency/client side. There are clients/art directors that I won't work for again but not through projects failing but through unprofessional antics that water-down the creativity. I love working with creatives that believe in their ideas and fight for them but this is a rarity in many agencies that are more interested in pleasing the client and allow the ideas to become distorted.
CA: On the flip side of that, what would your dream project be and who would it be for?
PB: I just finished it 2 days ago! Shooting stills and video of a code red Aston Martin in the Valley of Fire with use of a helicopter. Car photographers mecca! I still think that every job is a dream job in this industry. The amount of travel that my team do every year is difficult to comprehend and we spend a LOT of time in airport lounges. We shoot all over the world, normally in nice warm sunny places. There aren't too many photographic jobs that still do this, hence the competition!
CA: What's more difficult to shoot? Cars or people?
PB: I don't consider either are that difficult. If anything, cars are harder to make more beautiful than they are – which is what is expected. People can be made beautiful with good styling and make-up but making a car look beautiful takes a lot more time.
CA: Let's fast forward 10 or maybe 20 years. How do you see your career evolving? Do you see yourself still shooting cars?
PB: The best advice I was ever given was by a great French photographer friend of mine Patrick Curtet. 3 goals. Short term – which equates to something that will be achieved. Medium term – which is something you should be able to reach and Long Term which is a dream that would be fantastic to reach but can change because of the first 2 goals. It's simple but makes sense to have something to reach toward. If you have no goal then how can you achieve what you want? The industry is in rapid change with CGI and moving image making center stage. I love what I do so I would still love to be a part of it and this means embracing the idea of CGI and film more than it is now, especially the filming part. Stills photographers now need to have filming on their repertoire and I see this growing in the future.
CA: Moving on to the recent Aston Martin shoot — what was this project all about?
PB: Aston Martin is a new client and I have now shot for them twice. The project in January of this year was shot in Spain in in area around Barcelona. They wanted to change their marketing look and feel and move to a more considered and polished look of the car. The car wasn't new but had a few minor tweaks that they wanted to show off and they wanted to reinvent the car images.
CA: How many days did you shoot and how large was your crew?
PB: 1 day recce and 5 days shooting. On set, we had a producer, 2 x producer assistants, car prep, 1 client, 1 art director, 1 digi-tech, 1 second assistant, 1 driver, 1 rigger and myself. 10 people on set – I like to try and keep my sets as small as possible and dislike having people sitting around doing nothing. The smaller the crew, the more nimble the process.
CA: How many locations were involved (and where were the locations)?
PB: We had the Barcelona racetrack for a day for static shots, we moved south of Barcelona for 2 days then north for 2 days.
CA: How many hero vehicles were involved.
PB: 2 hero cars.
CA: Although I'm fairly certain that I know the answer to this, was the client happy with the end result?
PB: It's pretty hard to go wrong with this car! Any angle works, which is very unusual and we have just finished a 2nd job with them so I guess that means we did ok.
CA: Thank you for your time Paul and for sharing your experiences with the PhotoPolitic readers. You have many fans (including myself) who are fascinated with what you do and would not mind walking in your shoes professionally. Keep up the great work and I look forward to continuing to see your work for many years to come.
PB: There are so many people in this industry that feel the need to complain and bad-mouth photography but these people are facing the wrong way. All you need is drive, commitment and passion and photography will be your best friend. I love hearing stories of people that leave their desk job and head toward their passion and make it work and don't just make a living out of it, but start making serious money. Sure, being freelance gives you high highs and low lows but it also gives you freedom to make your own decisions and gives you another thing in your life to love.
— Behind the Scenes with Paul Barshon & Aston Martin —
---
---
---
---
---
---
---
---
---
---
— The Final Images —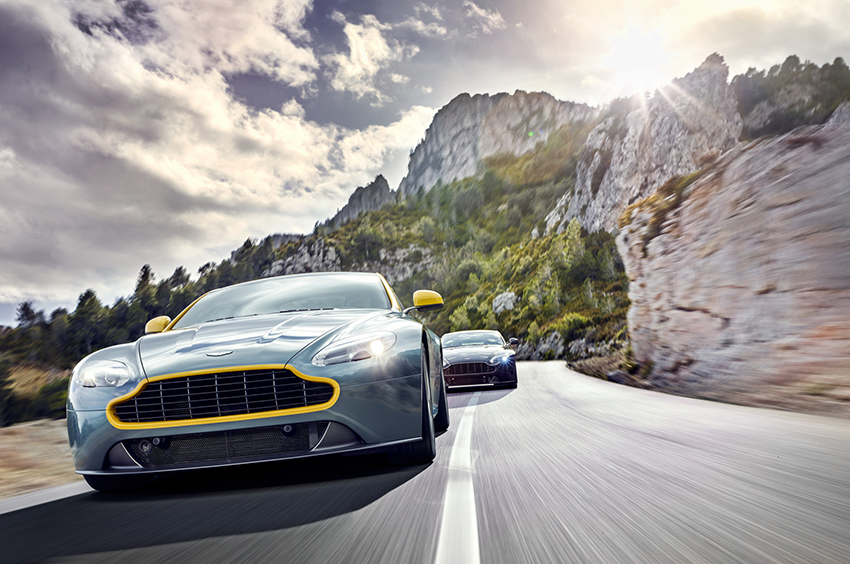 ---
---
---
---
---
---
---
---
---
---
More About Paul Barshon
Paul Barshon spent his early years in a make-shift darkroom (aka the bathroom), he experimented with developers and fixers, creating the basis of a career to come. At 16 years, he landed his first job working at K-Mart developing film. It didn't take him long to figure out that automotive photography was his calling. Since his move to L.A. in 2012, he has been shooting in locations around the world for a "who's who" of the automotive world.