A Journey to the South Pole
The Antarctica Project
---
Posted by René Koster on Feb. 26, 2019
---
The Project 'Antarctica' shows a series of photographs of a voyage to the South Pole. I travelled with a sailing ship which was built in 1911; the same period the last great expeditions left for the unknown continent.
Thoughts of frozen ships trapped in ice-covered seas cross my mind, images of the photographers who joined these expeditions to report of the unexplored. Fascinated by their stories I head for the same circumstances as those of the early twentieth century. A journey of longing, to a time that once was. An heroic saga; filled with hardship and adventure, in an infinite, barren land.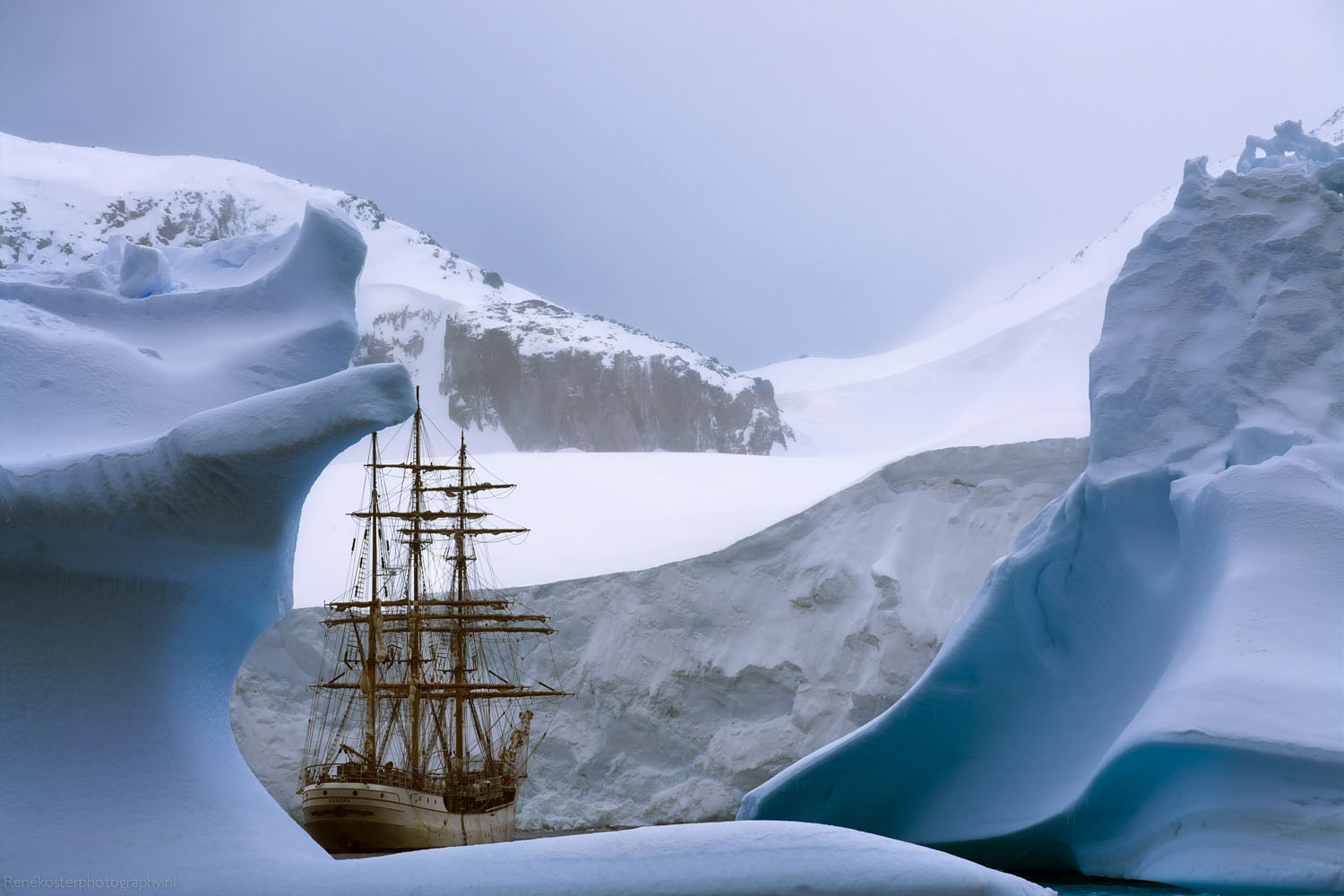 This series of photographs, taken with modern equipment, is a reference to the past. Personally, I feel no need for the photographs to look as if they have been created with techniques of the early 1900's. This is why I have deliberately chosen to work in colour; allowing the greyscales of the landscape to emphasize the blue captured in ice. In my search for the right images, I have tried to avoid as many elements of the present time as possible; things that would remind me of everyday life. The calm misty weather gives me a sense of desolation and makes the world feel smaller. The slow rate of travelling by sailing ship influences my way of taking photographs: searching for stillness, harmony and tragedy in the landscape. In search of beauty, the beauty of emptiness and cold.
---
---
---
---
---
---
---
---
---
Work from the Antarctica series was chosen as runner up by The Travel Photographer of The Year jury and was published in the TPOTY Journey Twobook.
---
- All images above ©2019 René Koster. All rights reserved. -
---
More About René Koster
My name is René Koster, I'm a photographer based in the Amsterdam area in the Netherlands. The work I make mostly concentrates on portrait, documentary and reportage.
Even before my time at the Art Academy I already had a keen interest in art and history; this often shows in my work. Being inspired by books and movies as well, often a sense can linger on to find its way into my work at some time.
After reading "1812", that tells the tragic story about Napoleon's invasion of Russia, I set out to Waterloo to portray re-enactors. Devoting their time to carefully reconstructing events and periods these men and women form a new community, an alliance where nationality and age are irrelevant. Rather than choosing a journalistic approach, I leaned heavily on the 18th-century art of painting. Isolating my subjects, carefully avoiding elements that could be linked to the present times; I wanted to give this series a sense of drama.
There is always a concept of the narrative before I start taking photographs. For every journey, I prepare by collecting information about the area and its history. This enables me to form an idea about the story I want to tell through my work. Then, my focus shifts towards finding the right pictures that fit into the story.
A journey to Antarctica by a tall ship built in 1911 gave me the chance to make a photo series dedicated to the great explorers of the early 1900s. The slow rate of travelling by sailing ship influenced my way of taking photographs; searching to capture the stillness, harmony and tragedy in the landscape.
In 2018 the quest for Antarctica continued when two men, American adventure-athlete Colin Brady and British Army Captain Louis Rudd, both set out to become the first person in history to cross Antarctica solo and unsupported. Photographing Rudd during his last preparations in a freezing storm in Iceland that lasted for days, gave me a sense of the hardship that this modern explorer was about to face during his solo trek. To honour Ernest Shackleton who trekked towards the South Pole in extremely difficult conditions, leading the 'Endurance' expedition of 1914-16, Rudd's expedition was named "Spirit of Endurance".