All Together Now
Portraits of Angelenos doing their part.
---
by Kremer / Johnson on April 24, 2020
---
Driving in Los Angeles over the last month has been a pleasant surprise. Every neighborhood throughout LA is doing their part. In general, the rules are being followed and it's working. The curve is not exponential in California. Hospitals are overwhelmed but the system is holding up.
Despite the government failures, medical risks and the economic climate that everyone in the middle and lower classes are realizing, there's still a sense of optimism. A sense that we're all in this together. This positive feeling of community has inspired us to SAFELY shoot a series of portraits featuring individuals that convey that sentiment.
We've been spending our days approaching strangers from a safe distance and our nights planning the next day. We typically have time for only one light and a couple shots.
We plan to shoot as many people as time will permit. We love the process, as it takes our mind off the lost income that we're experiencing.
---
Retouching by Jeff Whitlock
---
The family that quarantines together starts to look alike. This Simi valley family, sans dad, had enough of the big backyard with pool. They've had enough of the living room and all of the oversized McMansion bedrooms.
They're getting prepared for the nightly neighborhood shout out to all of the first responders and medical experts that are working overtime. Like many neighborhoods across America, the nightly bells, buzzers, music and singing has become a welcomed ritual. Something to look forward to and a small way to thank those working so hard.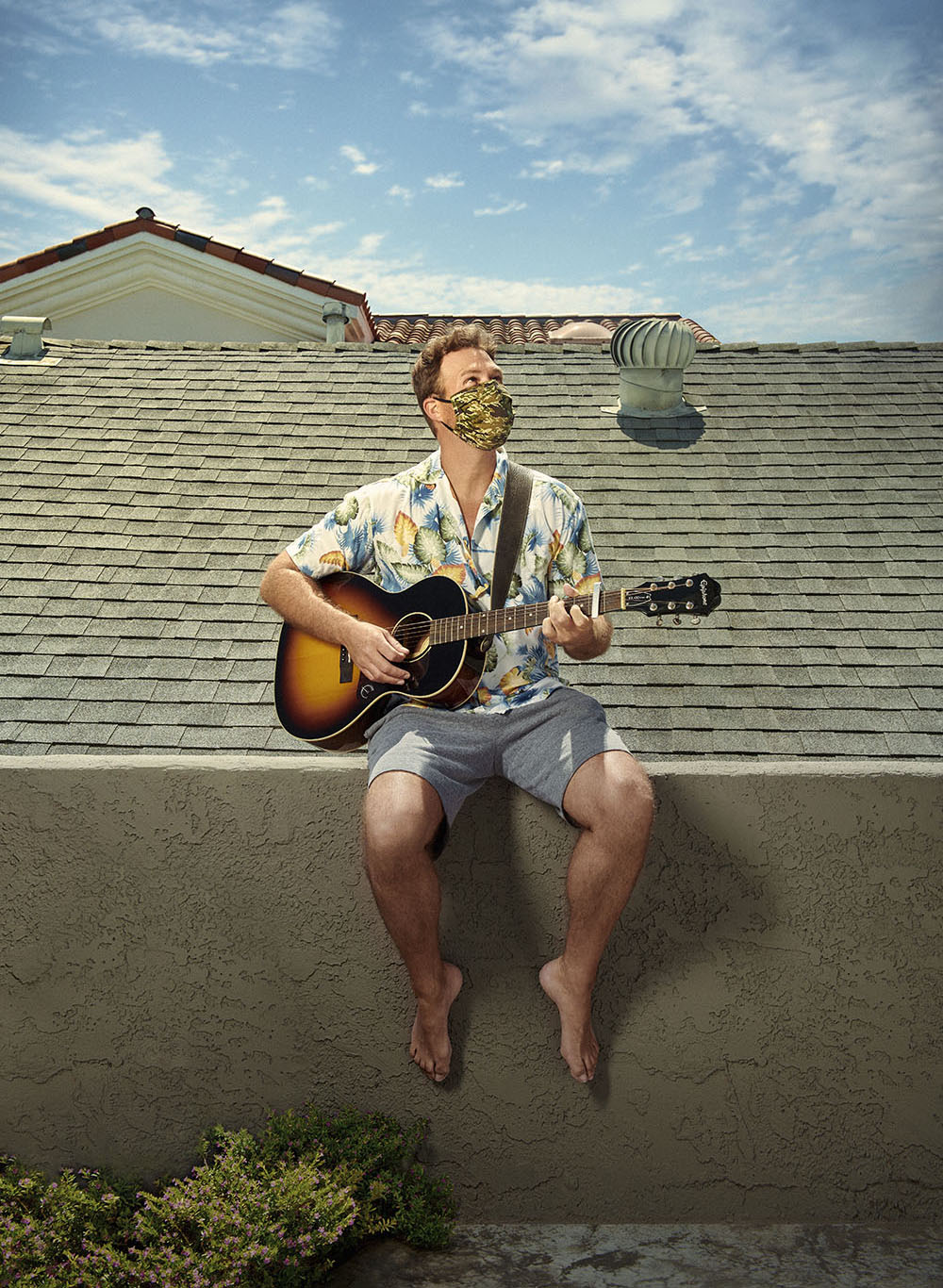 Left: From the corner of Florence and Normandie in South Central LA. We are proud of Californians (most of them) that are doing their part to slow the spread of the virus. We've been SAFLEY shooting a series of Angelenos that know we're all in this together.
Right: Despite the economic climate and medical risks that everyone in the middle and lower classes are realizing, there's a sense of optimism. A sense that we're all in this together. We're SAFELY shooting a series of portraits featuring individuals that convey that sentiment. From Redondo Beach, Mikey Jerome is a singer songwriter, actor, entertainer and one hell of a bartender.
Left: Whether medical professional or bank robber, the mask look is here for the foreseeable future. Laurie is a retired dental assistant living at the beach in Los Angeles. She would love to "get back to seeing her friends and having a few drinks at the bars, but it's not worth dying over."
Right: There is no shortage of masks or toilet paper in the desolate city of Vernon, CA. Masks are being sold 3 for $10 on every street corner. A paper company is selling toilet paper by the pallet from their warehouse. This is where we found Patrick, a pro wrestling fanatic with a degree in political science from Berkeley. (Which makes perfect sense in today's political climate) He was walking through a deserted area with groceries. Despite being alone, he still wore a mask. People are doing their part.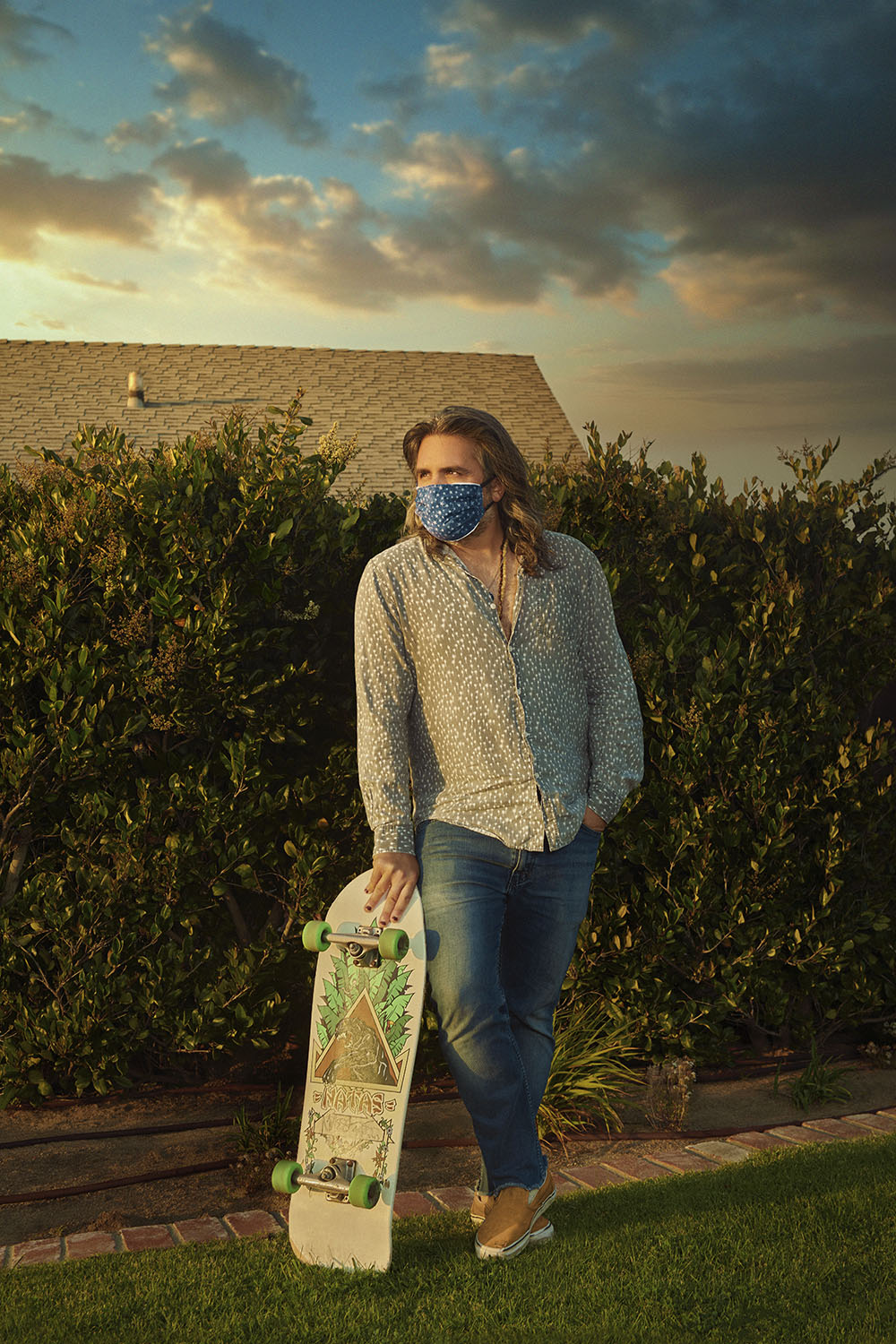 Left: Some people are taking advantage of the stay at home orders. Orion Simprini is a musician with a large following. He makes his music and distributes it from his home studio on a normal day. "I'm loving this. My wife is always home and I don't feel pressure to leave the house" says Orion. "I'm even finding time to love skating again.
Right: While the bullet holes in in Michael's car door offer a glimpse into the life he's led and his plucky stance speaks to the person he is, Covid-19 scares the F&%# out him. "I'm not scared of dying, I'm scared of giving it to younger people. I don't want to hurt anyone."
★ Follow Kremer / Johnson on Instagram ★
©2020 Kremer / Johnson. All rights reserved.
More About Kremer / Johnson
Character-based portraits and narrative-driven scenes are our thing. Sometimes quirky, sometimes serious, occasionally scripted, and often just REAL - we specialize in capturing authentic moments in even the most manufactured of settings.
Large & complex productions are where we thrive, though we enjoy kicking back in simpler settings as well.
True collaborators at heart, we formed Kremer/Johnson to explore our combined creative vision. We share in all duties from ideation & pre-production through shooting & post. Together we create images for editorial, corporate, and advertising clients nationwide.