A Perfect Weekend Away with Dakine
---
by Natalie Faye on Nov. 1, 2020
---
I had a lot of fun putting together this integrated shoot for legendary brand Dakine. I directed a project for them last year and so I was excited when they came back to me again with even bigger ambitions for their 2020 "Journey With Us" campaign.
The client needed a large number of assets covering both stills and motion and it was important that the style of imagery did not feel produced so it would resonate with their younger audience. They wanted the still assets to take priority and the motion content to be looser b-roll style shooting that would allow flexibility for various social cuts.
Their team was very collaborative and we worked together to build a budget and production plan. In the end, we decided the client team would take the lead on casting and styling, and I would produce the rest of the shoot.
---
---
---
---
For the motion content, I pulled in one of my favorite DPs John Roderick of Neu Productions who shot the last Dakine video for me. I brought him into the creative discussions early, and he and I worked closely on production planning so we were completely in-step by the time the shoot days arrived.
Since the DP and I would shooting the same day, side by side, I built my the shot lists with both stills and video in mind, working through a narrative arc that would provide a natural progression for both of us.
I spent a lot of pre-pro time location scouting specific areas on the Venice Beach Boardwalk and the 30+mile stretch of Malibu coast (which we utilized from one end to the other). I've shot in both of those areas quite a bit so am very familiar with the territory. However i knew I needed to know exactly what spots we would shoot, what the order would be, and what the light would be like when we got there. I would need to pull filming permits in advance for some areas, plus the shoot days would have a tight schedule and a caravan of cars in tow.
Even with planning, it was clear that we would need a really small and nimble crew to move through a number of locations quickly. On the day of the shoot we worked with a crew of 5 (myself, DP, two assistants and a PA) plus the talent and 2 client reps who handled the styling. The DP stayed light on equipment, running his RED on an EasyRig. As we moved through the day he and I would assess each scene, sometimes taking turns or sometimes shooting simultaneously. We shot entirely with natural light, supplementing here and there with reflectors and flags.
---
---
---
---
The talent and crew on this project were so great and we rolled smoothly through two long days. Our martini shot was at a beach on the far tip of Malibu with a gorgeous sunset and an unusually warm February night.
To cover Dakine's European market, we actually had a second stage of shooting planned on the streets of Berlin in late March 2020. With flights booked and pre-pro in the bag, we made the difficult (but collective) decision to cancel the trip since Covid-19 was trickling into Germany and travel restrictions were imminent. We are still hopeful that this opportunity will come back around in a year or two when things are back to normal!
Credits
Client: Dakine
Creative Director: Shelby Froehlich
Director/Photographer: Natalie Faye
Cinematography: John Roderick / Neu Productions
Editor: Brittany Bellamy (Directors Cut)
---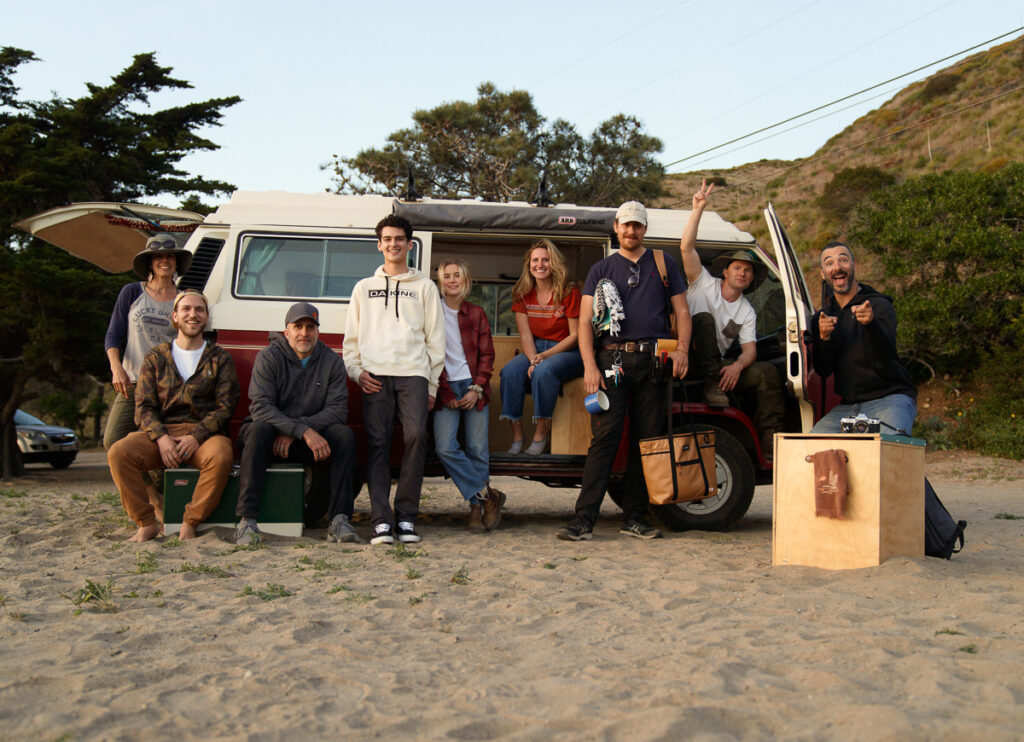 ★ Follow Natalie Faye on Instagram ★
©2020 Natalie Faye. All rights reserved.
More About Natalie Faye
Natalie is a photographer/director/filmmaker based in Los Angeles. A natural storyteller at heart, she leverages her curiosity and sense of adventure to elevate a brand's story and to bring people to life in front of her camera. She loves collaborating and brings a positive can-do attitude to the table. With 20 years experience in the industry, she is hands-on with every project from conceptualization through post-production. Her attention to detail assures a project's creative integrity will be maintained and expectations exceeded. Natalie's team can provide soup to nuts production services for both still and video. Productions can be scaled for budgets of all sizes and her team is available for travel worldwide.
Originally from the South (Texas, Arkansas, Tennessee), Natalie transplanted to Southern California in her twenties and hasn't looked back. She lives near the beach and takes adventures up and down the West Coast as often as possible.
Clients include Dakine, Disney, Johnson & Johnson, Lexus, Zales Jewelers, Auto Trader, ADP, Corsair Gaming, Nobilo Wines, Women's Wear Daily, Yoga Journal.