---
by Kremer / Johnson on Jan. 5, 2021
---
We've greatly admired the work of Ryan Schude since we picked up cameras in 2012. Being in the same artist collective with Ryan, a dialogue that sounded something like this ensued;
"Hey, we're really bored and there's no work out there because of Covid 19. We're reluctant to spend any money right now but we want to make something. Yeah, I know what you mean. We should pool our resources and make something together. OK, how about creating a series that is loosely blocked like a movie. OK, sounds like a good personal project, let's do it."
We discussed some of the things that we all love about Los Angeles and what makes it special to each of us. We spoke of calming winter days on the sand and the diverse groups of people that spend their time at any of California's many public beaches. From that point, Ryan found the location that we agreed would be perfect and we were off and running."
We went to work on the story first. The large Tableau was to be the establishing shot that set the tone for the project and offered the viewer a quick understanding of the series while supplying enough detail to create intrigue. We wanted people to see the tableau and desire a closer look. That leads us to vignettes that dig a little deeper. We developed the vignettes based people and groups that we've observed collectively. The aggregate of the vignettes would make up the bigger picture and the bigger picture would lead the viewer to want to know the individual stories. With a plan in hand, we went to work on casting, wardrobe and props.
Imagine our surprise when we received a couple thousand responses to our casting call. Once we made selects and secured the cast, we created mood-boards for our wardrobe stylist, Kaitlyn Lusk and then started working with the permit office to schedule a date. To reduce the headcount on set, rather than brining on an art department, we chose to source all of the props ourselves. We leaned on Amazon and several Goodwill stores for most of the props. For the food scene, we invited the super talented photographer and friend Linnea Bullion to help with the food styling. She's not really a food stylist but she did a great job and also played the part of our on-duty lifeguard very well.
In December, the sun comes up late, the shadows get long very early and, we had a lot to achieve in one short day. To prepare, we planned the composition of each shot prior to shoot day and created a tight schedule that was shared with our stylists and crew of 4 assistants.
Keeping the talent form getting bored was a concern. Although it's a vacation destination and the skies are lovely, it's still a long day at the beach when wearing mask and the temperature is hovering around 60 degrees. To keep everyone busy, we invited another photographer Patrick Ryland to create additional portraits of everyone. I think it worked because there was a line of people waiting to work with him all day long.
Covid safety was paramount on set. We followed Covid production guidelines and we believe everyone was safe. Except for talent, I honestly didn't see a single person's face the entire day.
The day went off without a hitch and we are rather proud of the results. We hope you enjoy the series.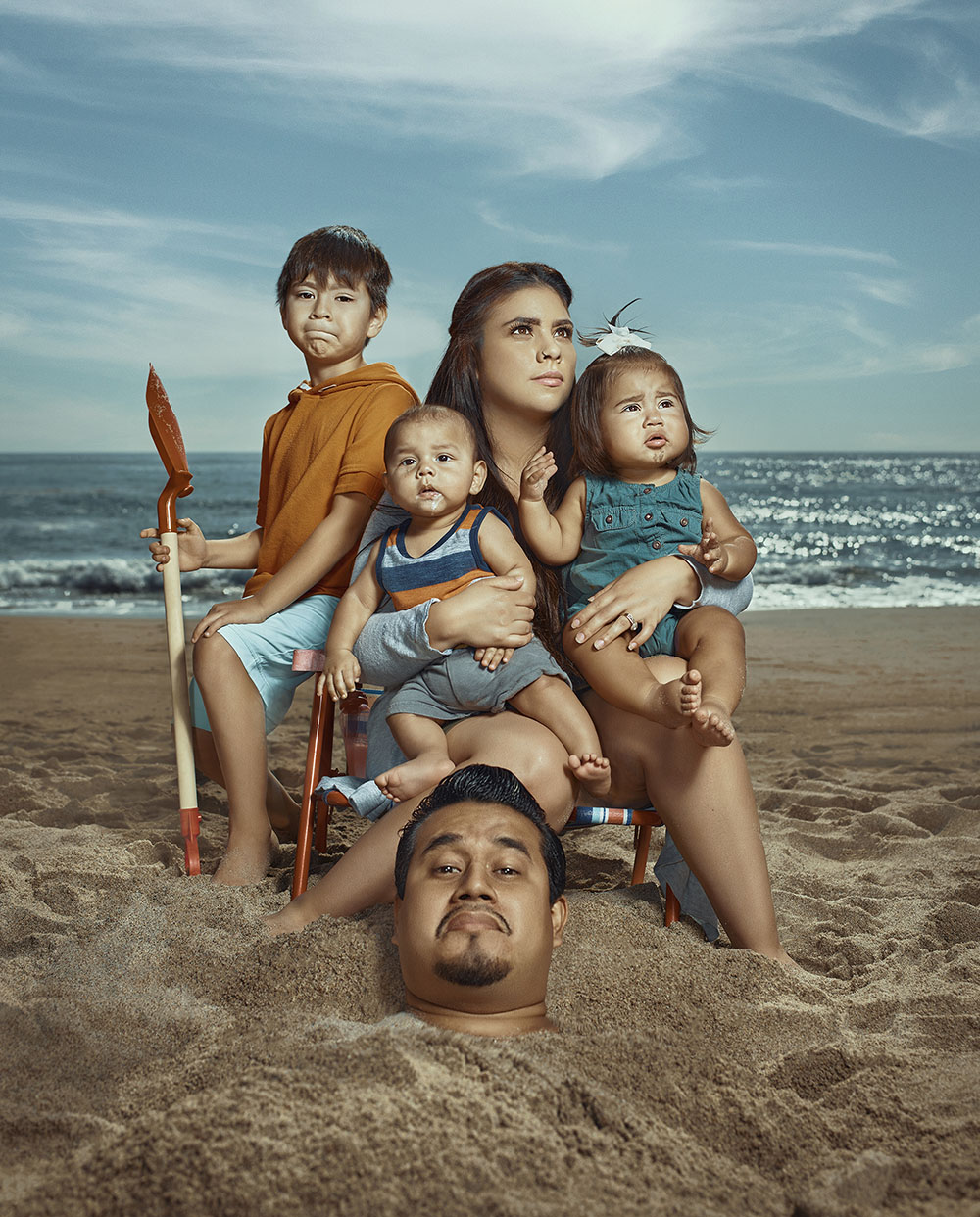 Behind the Scenes
★ Follow Kremer / Johnson on Instagram ★
©2021 Kremer / Johnson. All rights reserved.
More About Kremer / Johnson
Character-based portraits and narrative-driven scenes are our thing. Sometimes quirky, sometimes serious, occasionally scripted, and often just REAL - we specialize in capturing authentic moments in even the most manufactured of settings.
Large & complex productions are where we thrive, though we enjoy kicking back in simpler settings as well.
True collaborators at heart, we formed Kremer/Johnson to explore our combined creative vision. We share in all duties from ideation & pre-production through shooting & post. Together we create images for editorial, corporate, and advertising clients nationwide.