7 Days of Garbage
A crisis of consumption...
---
by Gregg Segal on March 22, 2019
---
The crisis of consumption and waste is right in front of our noses yet most of us are oblivious. Why? For starters, we're victims of comfort and convenience. It's hard to change your habits when it's so much easier to use and throw away. Besides, we can't be singled out when everyone around is wasteful. The burden of responsibility rests on the manufacturer, anyway, not on the consumer. It's not our fault that the products we buy come wrapped in unnecessary packaging and are designed to last a short time. Our economic model and its necessity for growth fuels the waste epidemic – and makes conservation seem out of reach.
With 7 Days of Garbage, I call attention to the problem by personalizing it. I figured, if I photographed friends, neighbors and other acquaintances laying in a week's worth of their garbage, they might consider their habits more deeply and maybe even make some changes in their routine.
---
First, though, the subject would actually have to save all their garbage for a week. For some, this proved too much; they showed up to be photographed with only part of their garbage, often leaving out the smelly stuff. One mom e-mailed half way thru the 7 days to say that her husband just couldn't stand the stench of their Chinese leftovers any longer and dumped the trash she'd been saving. Others may have felt ashamed to put their garbage on display. One fellow showed up with tidy garbage; even his eggshells had been scrubbed clean.
---
But there were others who bit the bullet and arrived with bags of messy food waste. One assistant gagged at a container of thick soup that looked like a milkshake but smelled like rotting chicken.
Those who met the challenge and lay down in all their garbage were the ones most affected by the experience – in a positive way (no more than one or two were scarred for life). One mother of two young children wrote to me after the shoot to say her kids were asking why everything they bought came with plastic around it. Another parent planned to duplicate my project at her nursery school.
---
With children, it's hard to know what they're absorbing. My own son, who was 7 at the time, only agreed to be photographed in exchange for a chocolate cupcake (I photographed myself and family as part of the series, too). But a couple weeks after the shoot, we were in the car and Hank said, "soon the world will be deserted in plastic bottles. They'll have to make giant towers to keep all the bottles in. Probably a tower up to the moon. 1,000 years ago, there were no plastic bottles. There wasn't even one plastic thing on Earth. Too bad…there sure are now!"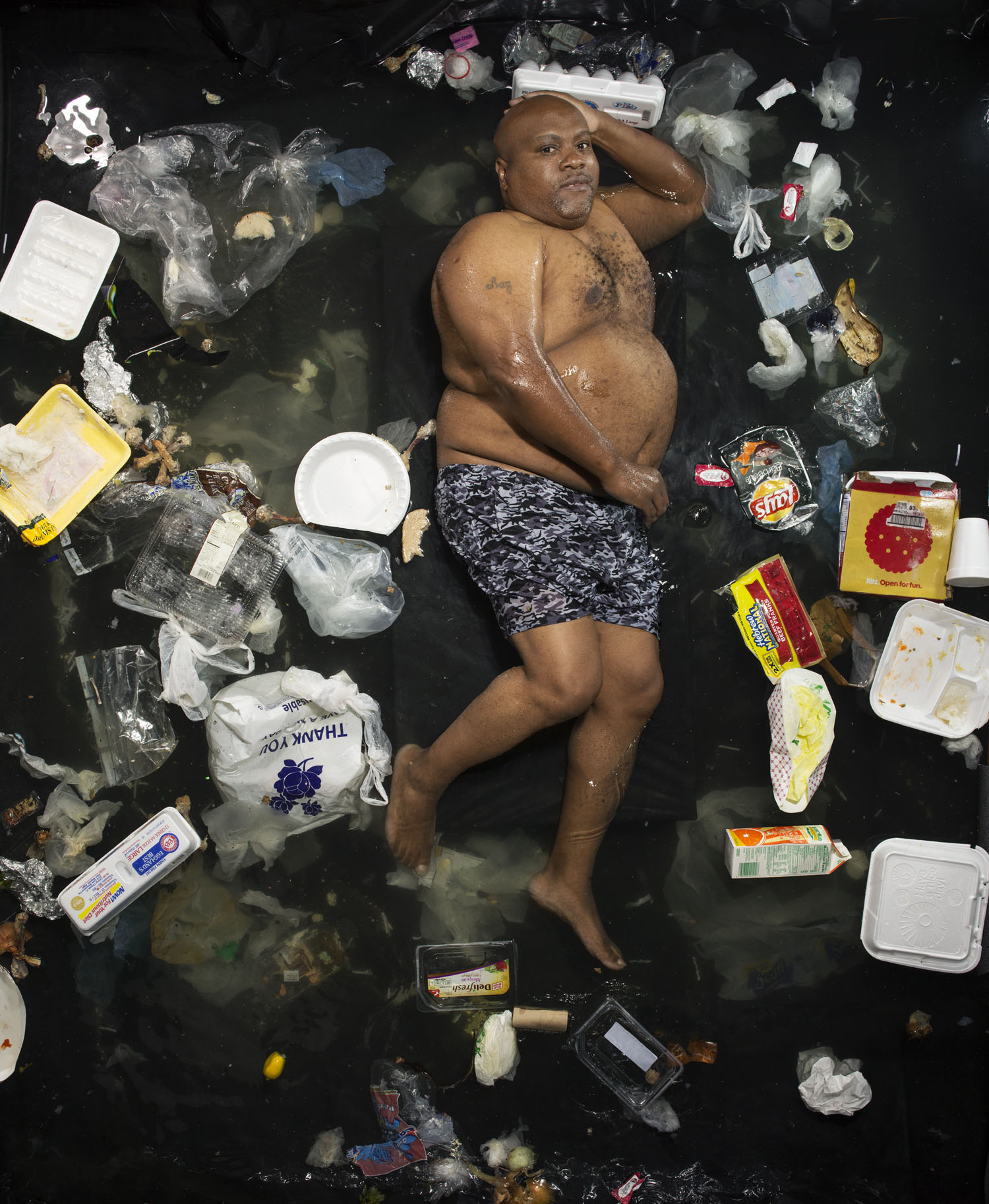 ---
It's one thing to get a handful of people you photograph to consider their consumption habits more deeply – but can you get a whole lot of people to change – or at least think more deeply about what they use and throw away on a daily basis?
Generally, audiences outside the US have been more receptive to the pictures and the series has been widely exhibited and published in mainstream magazines and newspapers throughout the world (Le Monde, Stern, The Independent, Italian Vanity Fair, Japanese Newsweek, the Times South Africa, etc.).
---
I thought this interesting, particularly when you look at the amount of garbage produced by individuals both here and abroad. In Europe, it's about 2 pounds per person a day while in the US, we each bag 4 pounds a day. Despite producing more modest amounts of waste, Europeans felt the message of the pictures was more vital than Americans who produce twice as much garbage. I suppose some don't perceive we have a problem here. This may be due, in part, to our sense of unlimited space in America. In Europe, space is at a premium.
But it's not just a matter of having more space for landfills here. Values and cultural mindset come into play. Even if 4 lbs. a day per person is a lot of garbage, it's not ok to sound the alarm. Personal freedom ranks very high among our values, trumping collective concerns; whereas, in Europe the opposite may be true. Our Libertarian roots run deep – clear back to the founding fathers and their "Don't Tread on Me" creed. That right to do as we see fit – in this case to the planet - is viewed by some as God-given and they bristle at the notion of "being shamed" into changing their ways. In much of Europe, change is underway.
---
Still, by personalizing the problem of waste – by starting with myself and working outwards from there, I've found that many are considering the issue more deeply and taking small steps to mitigate the crisis. Reflecting on the pictures I've made, I see 7 Days of Garbage as instant archeology, a record not only of our waste, but of our values – values that may be evolving a little.
- All images above ©2019 Gregg Segal. All rights reserved. -
More About Gregg Segal
Gregg Segal studied photography and film at California Institute of the Arts (BFA) dramatic writing at New York University (MFA) and education at The University of Southern California (MA). Segal's photography has been recognized by American Photography, Communication Arts, PDN, Investigative Reporters and Editors, The New York Press Club, the Society of Publication Designers and the Magnum Photography Awards. He is the recipient of the 2018 Food Sustainability Media Award sponsored by Thomson Reuters and the Barilla Center for Food and Nutrition Foundation. Segal's portraiture and photo essays have been featured in Time, GEO, Smithsonian, The Independent, Le Monde, Fortune, National Geographic Adventure and Wired, among others. His first monograph Daily Bread will be published by Powerhouse Books in April.