The Art & Science of Staying Relevant
In conversation with Sandro Miller & Doug Menuez (with a group portfolio review)
Sandro Miller and Doug Menuez
with Special Guest Jim Stallman
Senior Vice President, Creative Director at Leo Burnett
---
- Produced in association with Digital Silver Imaging -
---
Legendary photographers Sandro Miller and Doug Menuez will be sharing the mic to tell their stories of both success and failure and how it has shaped their careers. Both Sandro and Doug spend an exceptional amount of time developing personal projects that continues to define their bodies of work as well as creating endless opportunity for future commissions. They'll talk candidly about their lives and careers and will focus on what it takes to be successful in a constantly changing (and challenging) creative environment.
Following the talk, Sandro and Doug will be joined by Jim Stallman, Senior Vice President, Creative Director at Leo Burnett for a unique group portfolio review. Up to 10 participants will have their work reviewed by Sandro, Doug, and Jim in a group session for all to see and learn from their shared feedback.
---
Note: Although this lecture is geared toward professional photographers, anyone with an interest in photography will find it both informative and inspiring.
PhotoPolitic members receive a 20% discount (automatically applied after login)
Students receive a 20% discount by using the coupon code "STUDENT20" when checking out
(ID required on day of event)
Discounts available for groups of 10 or more — contact us for more details
The Group Portfolio Review
Up to 10 participants will have the opportunity to have their portfolios reviewed by Sandro, Doug, and Jim. They'll make recommendations for portfolio edits, discuss areas of your work that need improving and areas where you're doing it just right. It's a rare opportunity to personally engage with two top professional photographers as well as an influential agency creative director. You'll walk away with invaluable knowledge that will help take your career many steps forward.
---
Space for the portfolio review is limited to 10 people — participants will be selected prior to the event.
Join us for a Portfolio Review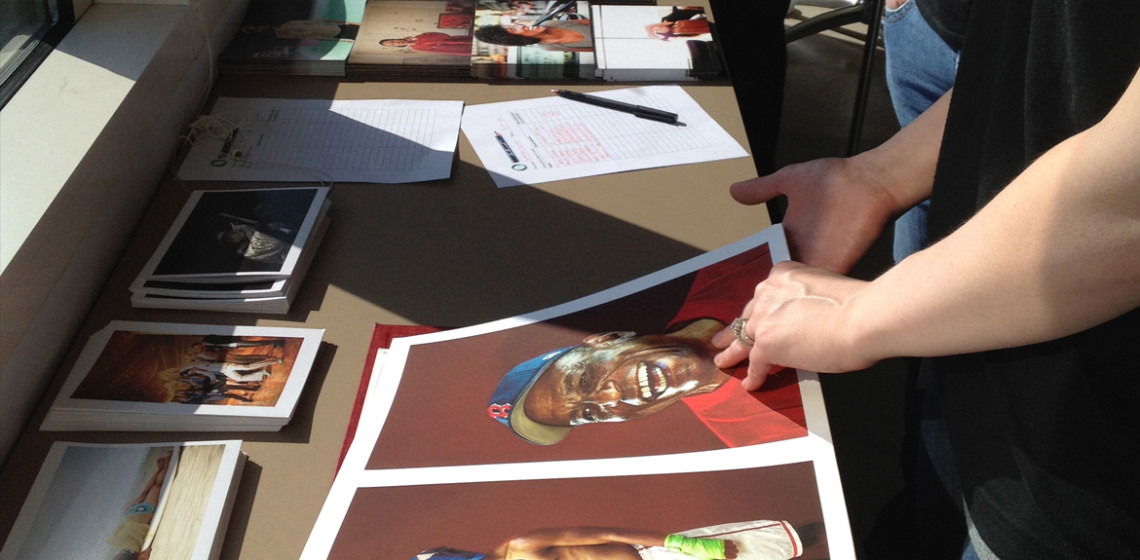 We're very fortunate to have a group of top tier creatives from Leo Burnett joining us for a multi-session portfolio review. Be sure to bring your portfolio (printed or digital) and you'll be able to sit down with all of them (individually) for real world feedback and advice on how to get your work seen and what it takes to ultimately get hired.
---
Confirmed Reviewers
Ainara Del Valle, ACD/AD
Jon Lueken, Sr. Producer
Jennifer Meinders, ACD/AD
Patrick Rynell, EVP/ECD
Duration: 10 minutes per person/per reviewer (4 confirmed reviewers)
---
- Portfolio Review Image Credit: Heather Elder Represents -
About Sandro Miller
---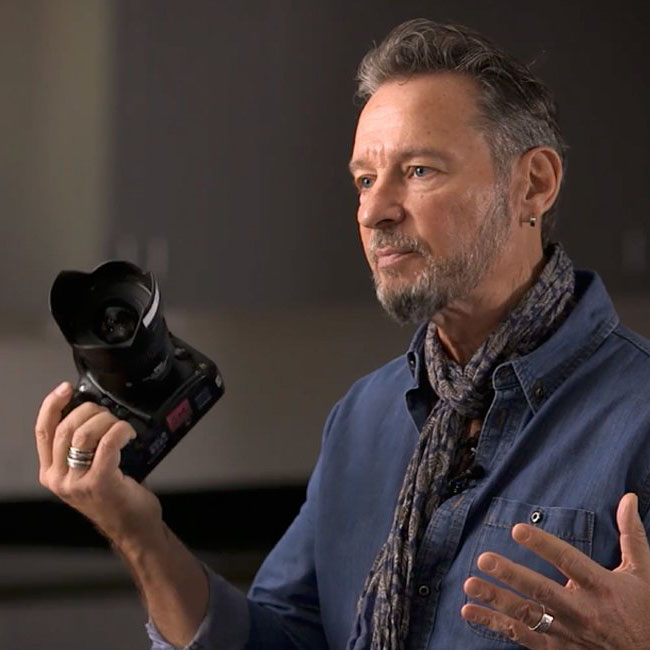 ---
As a young teen, Sandro Miller embraced the idea of making photographic portraits after seeing the portrait imagery of Irving Penn. He began photographing in Chicago at the age of sixteen and has since devoted his thirty-plus-years career to creating expressive images from his elegant Ukranian Village studio.
With numerous award-winning commercial campaigns to his credit, Sandro is one of today's most respected commercial and fine art photographers. He has photographed many national advertising campaigns for a long alphabetical list of clients including: Adidas, Allstate Insurance, American Express, Anheuser-Busch, BMW, Champion, Coca-Cola, Dove, Gatorade, Honda, Milk, Microsoft, Miller/Coors, Motorola, Nike, Nikon, Pepsi, Pony, UPS and the US Army.
In 2001 Sandro was invited by the Cuban government to photograph that country's greatest national treasure – its athletes. This project was the first US‑Cuban collaboration since the diplomatic and trade embargo was imposed in 1960. Sandro's editorial work has been featured in Communication Arts, Details, Esquire, ESPN Magazine, Eyemazing, Forbes, GQ, Graphis, Newsweek, New York Magazine, The New Yorker, Russian Esquire, Stern, Time, Vibe, Wired and has been exhibited worldwide.
Sandro has a working relationship with the camera giant Nikon and is responsible for introducing their latest technology to the professional photographic world. He has worked on many award-winning projects with Nikon: a portrait session with actor John Malkovich in Croatia; a series of motorcycles racing in Brainerd, Minnesota; a still and video shoot of the roller derby team The Windy City Rollers; a video of the world-renowned high-wire artist Philippe Petit; and most recently, a short cinematic video entitled "Joy Ride", featuring a motorcyclist racing through the early morning streets of Chicago on a mysterious mission.
---
- A Few Images from Sandro Miller's Portfolio -
---
- Connect with Sandro Miller -
About Doug Menuez
---
---
Documentary photographer and director Doug Menuez once stood at the North Pole, crossed the Sahara, had tea with Stalin's daughter and held a chunk of Einstein's brain. Quitting his blues band in 1981, he began his career freelancing for Time, LIFE, Newsweek, Fortune, USA Today, the New York Times Magazine and many other publications. He covered the AIDS crisis, homelessness in America, politics, five Super Bowls and the Olympics. His portrait assignments included Presidents Bush, Sr. and Clinton, Cate Blanchett, Robert Redford, Lenny Kravitz, Mother Teresa, Jane Goodall and Hugh Jackman. His award-winning advertising campaigns and corporate projects for global brands include Chevrolet, FedEx, Nikon, GE, Chevron, HP, Coca Cola, Emirates Airlines, Charles Schwab and Microsoft.
His fourth book, "Fearless Genius: The Digital Revolution in Silicon Valley 1985-2000," by Simon & Schuster's Atria Books, became a #1 bestseller on Amazon's photo book list and was published in the US, Japan, the UK, South Korea and China. Over 100 million people worldwide have seen the project through the book, exhibits, viral press and talks. A fine art exhibition of rare images of Silicon Valley's greatest innovators, including Steve Jobs, as they changed our world continues to travel. His extensive archive of over one million images was acquired by Stanford University Libraries in 2004. Doug divides his time between the Hudson Valley and NYC.
---
- A Few Images from Doug Menuez's Portfolio -
---
- Connect with Doug Menuez -
Special Guest: Jim Stallman, SVP/Creative Director, Leo Burnett
Jim Stallman started life as a jazz musician in Boston and New York, but quickly switched to graphic design. At various design shops, he worked on Schwinn bicycles, Hartmarx and Sunbeam/Oyster. He later co-founded Ted Studios, a boutique design firm, before arriving at Leo Burnett in 1997. He has since worked on pretty much every client there is, most notably Allstate, Walmart, PetSmart, Hallmark, Samsung, Coca-Cola and Nintendo. Jim joined the Altria team in 2011 working on Marlboro, and for the past couple of years has led creative initiatives for many of Altria's "new" ventures. He has recently added Copenhagen, a nearly 200-year-old brand, to his portfolio.
---
- Connect with Jim Stallman -
Venue
Sandro's Ukranian Village Studio
2540 West Huron Street
Chicago, IL 60612
---
Schedule
Date: June 22, 2019
Lecture: 10:00am to 1:00pm
Lunch: 1:00pm to 2:00pm
Group Portfolio Review: 2:00pm to 4:00pm
Lunch & Refreshments
World-renowned
Chef Christopher Tong
will be preparing a light lunch and refreshments for us. The menu options will be as follows:
Sandwiches
Seared Angus Beef Tenderloin with Crispy Onions
Baby Arugula, Tomatoes, and Dijon Mustard
Blackened Chicken Breast with Guacomole, Swiss Cheese, and Baby Spinach
• Gluten-free bread will be available upon request •
---
Salads
Gluten-Free Pasta Salad Primavera with Pesto
Watermelon, Jicama and Cucumber Salad, Fresh Herbs & Lime Juice
Mesculin Mix, Artichokes, Cherry Tomatoes, Cucumber, Bell Peppers, Feta Cheese
Cranberries, Balsamic Vinaigrette
---
Beverages
• An assortment of beer, soft drinks, and water will be available •
---
Chef Christopher Tong and a few dishes from previous events
Discounts for groups of 10 or more available — contact us for more details
Refund Policy
Event Cancellation by PhotoPolitic
PhotoPolitic reserves the right to cancel an event due to low enrollment or other circumstances which would make the event non-viable. If PhotoPolitic cancels an event, registrants will be offered a full refund.
Should circumstances arise that result in the postponement of an event, registrants will have the option to either receive a full refund or transfer registration to the same event at the new, future date.
Event Cancellation by Participant
Refunds will not be available for registrants who choose not to attend an event or simply have had a change of plans.
All refund requests must be made by the attendee or credit card holder.
These above policies apply to all events produced by PhotoPolitic unless otherwise noted in the corresponding event materials. Please read all individual event information thoroughly.
Do You Have Questions About This Event?
- All fields are required. -