Balancing Art + Commerce
In conversation with Mark Mann & Blaise Hayward
Due to circumstances beyond our control, this event has been postponed until the first quarter of 2020. A new date will be announced soon.
---
Mark Mann and Blaise Hayward
with Special Guests Jodi Peckman, Ron Beinner, and Jeff Griffith
(more to be announced soon).
---
Join Mark Mann and Blaise Hayward, (two of the top working photographers in the categories of portraiture and the many sub-genres of lifestyle photography) for an in-depth and lively discussion covering the many facets of success and what it means to not only make a name for yourself but make a living too.
We all hear about the need to shoot personal work and the need to constantly challenge our creative process. In fact, those things are essential for career growth as well as personal growth as an artist. However, the personal projects don't always pay the bills and doing work to make money, — no matter how boring the project is — something we all inevitably give in to.
Mark and Blaise come from different ends of the creative spectrum but both are well versed in the art of self preservation and self expression through their work and are eager to share their successes and failures with you to help you find the right balance of creative and practical work.
Following the talk, both Mark and Blaise will be joined by a special guest for a unique group portfolio review. Up to 10 participants will have their work reviewed by the trio in a group session for all to see and learn from their shared feedback.
---
Note: Although this lecture is geared toward professional photographers, anyone with an interest in photography will find it both informative and inspiring.
PhotoPolitic members receive a 20% discount (automatically applied after login)
Students receive a 20% discount by using the coupon code "STUDENT20" when checking out
(Student ID required on day of event)
Discounts available for groups of 10 or more — contact us for more details
The Group Portfolio Review
Up to 10 participants will have the opportunity to have their portfolios reviewed by Mark, Blaise, and our special guest. They'll make recommendations for portfolio edits, discuss areas of your work that need improving and areas where you're doing it just right. It's a rare opportunity to personally engage with two top professional photographers as well as an influential agency creative director. You'll walk away with invaluable knowledge that will help take your career many steps forward.
---
Space for the portfolio review is limited to 10 people — participants will be selected prior to the event.
Individual Portfolio Reviews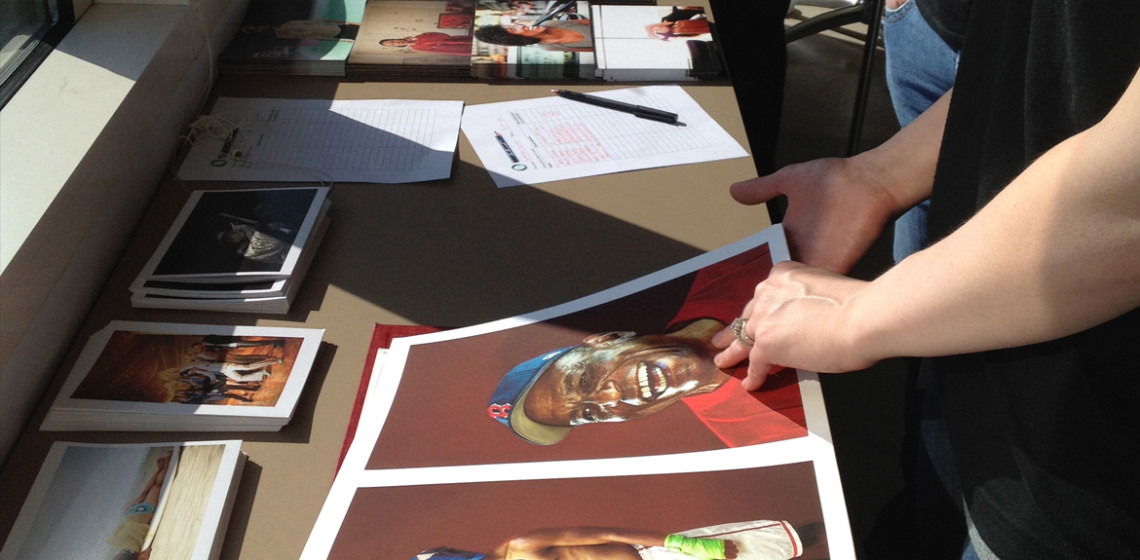 We will have a group of top tier creatives joining us for a multi-session portfolio review. Be sure to bring your portfolio (printed or digital) and you'll be able to sit down with all of them (individually) for real world feedback and advice on how to get your work seen and what it takes to ultimately get hired.
---
Duration: 10 minutes per person/per reviewer (4 confirmed reviewers)
---
- Portfolio Review Image Credit: Heather Elder -
About Mark Mann
---
---
Mark Mann is a celebrity and advertising photographer. He was born in Glasgow, where he lived until he went to study in the prestigious photographic program at Manchester Polytechnic. Before long, the recent graduate was assisting innovative fashion photographers Nick Knight and Miles Aldridge, learning the ropes and building his own body of work. Three years later, Mark started shooting on his own, relocating to New York City.
Mark's editorial work has appeared in Esquire, Men's Health, Vibe, Spin, Fortune, Billboard, Parade and Complex, among others. He has shot countless celebrities, including Robert Redford, Michael Douglas, Iggy Pop, Jack Black, the Black Eyed Peas, Jerry Seinfeld, Dave Chappelle, Rihanna, Queen Latifah, Simon Baker, Stevie Wonder, Bradley Cooper, Willie Nelson, Sean Connery, John Hamm and Jennifer Hudson. Mark has amassed a sizable advertising portfolio, as well. His clients run the gamut: Reebok, Adidas, Hennessy, Bombay Sapphire, Pepsi, Gillette, Vitamin Water, NHL, Zumba, Ford, Chrysler and Svedka to name a few.
---
- A Few Images from Mark Mann's Portfolio -
---
- Connect with Mark Mann -
About Blaise Hayward
---
---
Known for his high-energy, enthusiasm, and passion, Blaise Hayward has the ability to create and photograph a moment of unique connection with people. Specializing in expressive portraiture, he has shot a diverse range of subjects from Fortune 500 CEOs to cancer survivors.
He is currently working on two fine art projects: The Honest Portrait and Dusk. These two bodies of work are slated to be exhibited in 2019.
"I put my subjects at ease and assist them in letting their guard down. This is not something I do consciously, it comes naturally to me. It is part of my personality. If someone happens to be apprehensive or uneasy in front of the camera, I sense an opportunity, not a challenge, and do not let the spontaneity of the moment go unrecorded."
Some of his clients include: Citibank, Verizon, Pfizer, JP Morgan Chase, The Hartford, Bank of America, Bridgestone, Sports Illustrated, O The Oprah Magazine, New York Times Magazine, Bristol-Myers Squibb, Accenture, Harvard, GlaxoSmithKline, Procter & Gamble, NYU, ABC, Money Magazine, Novartis, Volkswagon, Mercedes Benz, AOL, Bayer, American Express, Mastercard, Benjamin Moore, Sanofi Aventis, Merck, Razorfish, Real Simple, Inc Magazine, Holiday Inn, Glamour Magazine, The History Channel, L'Oreal, Movado, Wyeth, Fast Company, Harper's, Kraft, Red Bull, Central Park Conservancy, HBO, ConocoPhillips, Sprint, American Century Investments, UBS.
---
- A Few Images from Blaise Hayward's Portfolio -
---
- Connect with Blaise Hayward -
Special Guest:
Jodi Peckman, Creative Consultant
Jodi Peckman is the former Creative Director for Rolling Stone Magazine and was responsible for overseeing the legendary music magazine's iconic and news making photo images that appear inside and on the cover of the magazine. Peckman joined Rolling Stone magazine in 1987 as Associate Photo Editor, became Director of Photography in 1994 and Creative Director in 2009.
Over the years, she has worked with the most influential photographers of our generation including Sebastião Salgado, Herb Ritts, David LaChapelle, Albert Watson, Terry Richardon, Mark Seliger and Albert Watson.
Peckman is a two time recipient (in 2006 and 1994) of an American Society of Magazine Editors Award and has collected numerous Society of Publication Designers and American Photography Awards.
Peckman graduated from the School of Visual Arts with a Bachelor of Fine Arts and Design. She lives in New York City and is currently a Creative Consultant focusing on Documentaries, Books and Exhibitions.
---
- Connect with Jodi Peckman -
Special Guest:
Ron Beinner, Creative Consultant & Producer
Ron Beinner is a creative consultant, photography producer and editor. He has produced environmental portraits on location around the globe for Vanity Fair magazine for over two decades. He recently relocated from New York City to Los Angeles to open a creative consulting and production studio. He advises and collaborates with photographers on still and interactive portraits for the entertainment industry, and beyond.
---
- Connect with Ron Beinner -
Special Guest:
Jeff Griffith, Creative Director
Jeff Griffith is an advertising and marketing Creative Director. He has worked in ad agencies and companies of all levels of dysfunction and sizes from Honolulu to Atlanta, San Francisco, Chicago, Winston-Salem and all over New York City. His client experience ranges from Fortune 100 companies to third generation retailers and incredible non-profit clients.
While working full-time in advertising, Jeff also Co-Published/Designed his own magazine for 4.5 years called ATOMIC, which was all about retro culture.
In the late 2000s, he also co-founded an ad agency named JUGULAR. Most recently, he was Creative Director of Integrated Marketing at Men's Health magazine. He has been honored to work with some of the greatest photographers in the industry and has designed and edited some of their portfolios and promo pieces over the years.
---
- Connect with Jeff Griffith -
The Venue
Jack Studios
601 W 26th St
12th Floor
New York, New York 10001
---
Schedule
Date: Event Postponed: New date will be announced soon
Lecture: 10:00am to 1:00pm
Lunch: 1:00pm to 2:00pm
Group Portfolio Review: 2:00pm to 4:00pm
Lunch & Refreshments
Mr Paris Catering Co.
will be preparing an amazing lunch for us and refreshments will be served.
A Preview of our Amazing Lunch by Mr. Paris Catering Co.
The menu options will be as follows:
Lunch
Skirt Steak w/ Caramelized Onions, Red Wine Reduction
Grilled Chicken w/ Brussels Sprouts & Squash
Lemon Parsley Salmon Cakes over Fresh Tomato Sauce
Artichoke Gnocchi, Sundried Tomatoes, Green Beans & Spinach
Brown Basmati Rice
Sesame Tuna Lettuce Wraps
Broccoli Riced Stuffed Peppers
Homemade Beet Hummus with a Side of Sliced Cucumbers
Gluten-free & vegetarian options available upon request
---
Vegetarian Buffet
Spring Garden Vegetables, Green & Yellow Squash, Eggplant & Green Beans
Roasted Rainbow Baby Carrots
Asparagus w/ Garlic, Oregano GF Bread Crumbs
Burnt Cauliflower w/ Green Tahini
Raw Kale Salad w/ Crispy Artichoke Hearts, Golden Raisins, Pickled Shallots & Pine Nuts
---
Beverages
An assortment of beer, soft drinks, and water will be available
Discounts for groups of 10 or more available — contact us for more details
Refund Policy
Event Cancellation by PhotoPolitic
PhotoPolitic reserves the right to cancel an event due to low enrollment or other circumstances which would make the event non-viable. If PhotoPolitic cancels an event, registrants will be offered a full refund.
Should circumstances arise that result in the postponement of an event, registrants will have the option to either receive a full refund or transfer registration to the same event at the new, future date.
Event Cancellation by Participant
Refunds will not be available for registrants who choose not to attend an event or simply have had a change of plans.
All refund requests must be made by the attendee or credit card holder.
These above policies apply to all events produced by PhotoPolitic unless otherwise noted in the corresponding event materials. Please read all individual event information thoroughly.
Do You Have Questions About This Event?
- All fields are required. -