Creating an Authentic Visual Narrative
In conversation with Andy Anderson & Andy Mahr
- with Special Guests -
When it comes to the portrait and lifestyle categories, there are few photographers as well known (and loved) as Andy Anderson. His iconic images are a beautiful idyllic portrait of America and beyond. Andy will be joined in conversation by art director turned photographer Andy Mahr. In just a few short years, Andy has become one of the most sought after photographers by advertising and editorial clients around the world. His work also gives a glimpse into the human condition and celebrates the hard work and resilience of working men and women.
Both Anderson and Mahr will discuss their own unique process in creating images that convey an authentic story — much of the time defying the reality that actually existed in the first place.
Following the talk, both Anderson and Mahr will be joined by a special guest for a unique group portfolio review. Up to 10 participants will have their work reviewed by the trio in a group session for all to see and learn from their shared feedback.
---
Note: Although this event is geared toward professional photographers, anyone with an interest in photography will find it both informative and inspiring.
PhotoPolitic members receive a 20% discount (automatically applied after login)
Students receive a 20% discount by using the coupon code "STUDENT20" when checking out
(ID required on day of event)
Discounts available for groups of 10 or more — contact us for more details
The Group Portfolio Review
Up to 10 participants will have the opportunity to have their portfolios reviewed by Anderson, Mahr, and our special guests. They'll make recommendations for portfolio edits, discuss areas of your work that need improving and areas where you're doing it just right. It's a rare opportunity to personally engage with two top professional photographers as well as an influential agency creative director. You'll walk away with invaluable knowledge that will help take your career many steps forward.
---
Space for the portfolio review is limited to 10 people — participants will be selected prior to the event.
One-on-One Portfolio Reviews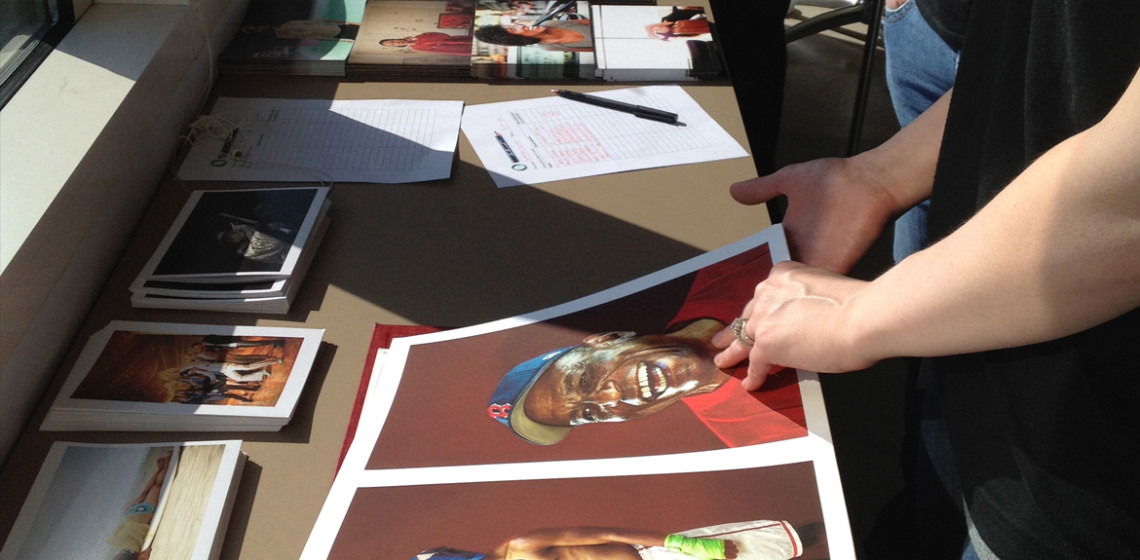 We will have a group of top tier creatives joining us for a multi-session portfolio review. Be sure to bring your portfolio (printed or digital) and you'll be able to sit down with all of them (individually) for real world feedback and advice on how to get your work seen and what it takes to ultimately get hired.
---
Duration: 10 minutes per person/per reviewer (4 confirmed reviewers)
---
- Portfolio Review Image Credit: Heather Elder -
About Andy Anderson
---
---
Andy Anderson began his photography career as the first staff photographer for Men's Journal and currently shoots for some of the biggest and best advertising agencies in the world on brands such as Adidas, Asics, The US Army and Marines, Diner's Club International, Dodge RAM, Emirates Air, Barbados Tourism, Fiji Tourism, GoRV, Beretta, Nebraska Tourism, Double Tree by Hilton, YETI coolers, Harley Davidson, Hummer, Kodak, Liberty Mutual, Hyatt, Nike, Verizon, Visa, Western Union and numerous state tourism campaigns. His editorial clients include Outside, Stern, Audubon, Condé Nast Traveler, Garden & Gun and Town & Country to name a few.
He recently finished a three-year project documenting all things Beretta for the newly released book Beretta: 500 years of the Sporting Life, published by Rizolli. Rizolli also published a book of Andy's fishing images called Salt.
Andy was also honored to participate in the "God Made a Farmer" RAM Trucks Super Bowl XLVII ad project, which featured many of Andy's images. He was also given the opportunity to be one of twelve select photographers invited to document the XIX Olympic Winter Games in Salt Lake City.
His work has been recognized by numerous award shows, The New York Art Directors Club, Communication Arts, and Graphis and was nominated for Life Magazine "Eisie Award" for excellence in photojournalism. He was a finalist for the MPA Kelly awards for Creative Excellence In Magazine Advertising and winner of the Gold Addy Award for self-promotion in print advertising. The Forbes Gallery has work of his in their permanent collection and his work was featured in an exhibition at The Art Institute of Boston.
Andy grew up in St. Cloud, Florida and currently lives in Mountain Home, Idaho with his wife and kids. When not traveling on assignment, he can often be found with his bird dog on hunting or fly fishing trips. Andy believes advertising in its highest form is art and brings an enthusiasm for adventure and life to both his personal and commercial work. He is hired for his ability to infuse this into his lifestyle, location landscape, portrait and automotive imagery.
---
- A Few Images from Andy Anderson's Portfolio -
---
- Connect with Andy Anderson -
About Andy Mahr
---
---
Andy Mahr's background as an art director has taught him to absorb the world. Photography, painting, film, music, architecture, design, motion graphics, product design, street art, guerrilla marketing, he draws inspiration from any form of art that evokes an emotion. During his time as an agency creative, he learned to pay attention not only to the way things looked and sounded, but also to the theories and concepts that surround our lives, both from artistic and business standpoints. He saw the ad business from a completely different side than what most photographers see it and he has a real appreciation for what creatives and clients go through to bring their ideas to fruition. He has developed his own unique and distinctive style, look, and aesthetic that has made the rise to his current success status very rapid. Andy loves photography and every aspect of the process he uses to create outstanding award winning images.
---
- A Few Images from Andy Mahr's Portfolio -
---
- Connect with Andy Mahr -
Special Guest:
Jess Buck, Senior Art Producer, GSD&M
Jess Buck is an art producer with experience in creative production across multiple platforms, with her primary focus being photography. She's been in the industry for roughly 13 years, with experience on the client side, agency side & as a freelancer. As an art producer, Jess is responsible for bringing the creative vision to life through negotiation, planning & collaboration with both photographers & agents as well as clients. When on set, she's focused on creating a seamless working experience for clients and crew alike: clear communication & pre-planning that results in beautiful work & a happy client!
---
- Connect with Jess Buck -
Special Guest:
Verenice Lopez, Associate Creative Director, GSD&M
Verenice Lopez is an Associate Art Director at GSD&M. She's worked at multiple agencies in New York and now Austin. Verenice has worked on brands such as Samsung, PlayStation, Dodge, Pizza Hut, Southwest Airlines, and Hilton Hotels. As an art director, Verenice is responsible for the visual style and images in print, social and television productions. On production she works closely and collaborates with the photographer and production team to help create the overall desired creative vision.
---
- Connect with Verenice Lopez -
Special Guest:
Kyle Mitchell, Associate Creative Director, Art Director, GSD&M
Kyle Mitchell, the son of an Air Force Colonel father and an artsy, drum-circle mother, he learned that in order to survive in this world, he had to be able to see things from every angle; shifting perspective without losing sight of his vision. He made a 21-year career in advertising doing just that, and he's got a few awards to show for it with appearances in The One Show, CA, Graphis, The Art Director's Club, The Webbies and Cannes shortlist.
---
- Connect with Kyle Mitchell -
Special Guest:
Amy V. Cooper, Photo Consultant
Amy V. Cooper is a photography business consultant and coach, and founder of the artist representation agency, Trove Artist Management. She has worked in the photography industry for over 20 years as a photo editor, art buyer, digital asset manager, consultant, and rep. Amy has worked with clients such as UPS, Coca-Cola, Microsoft, MTV, Capital One, Teen Vogue, The New Yorker, Esquire, and more. As a consultant, Amy specializes in helping her photographers better understand their target market, edit their work to reflect that market, develop marketing strategies, goals accountability, and building confidence to attract the clients that they really want to be working with.
---
- Connect with Amy V. Cooper -
Venue
St. John Studios courtesy of Jody Horton
705 West St Johns Avenue
Austin, TX 78752
---
Schedule
Date: Feb 01, 2020
Anderson & Mahr in Conversation: 10:00am to 1:00pm
Lunch: 1:00pm to 2:00pm
Group Portfolio Review: 2:00pm to 4:00pm
Lunch & Refreshments
Austin's very own
LeRoy and Lewis BBQ
will be preparing their New School BBQ for us and refreshments refreshments will be served.
A Preview of "New School BBQ" from LeRoy and Lewis
The menu options will be as follows:
Meats
Beef Cheek
Hop Whole Hog
Hop Sausage
Gluten-free & vegetarian options available upon request — Menu items are subject to substitution based on availability
---
Sides
Sambal Cucumbers
Picnic Pasta Salad with Cheese & Pickles
Kale Slaw with Parmesan & Croutons
Marinated Tomatoes
---
Beverages
Beer and spirits will be generously provided by
Real Ale
and
Real Spirits
(water and soft drinks will also be available)
Image Credit: Jody Horton
Discounts for groups of 10 or more available — contact us for more details
Refund Policy
Event Cancellation by PhotoPolitic
PhotoPolitic reserves the right to cancel an event due to low enrollment or other circumstances which would make the event non-viable. If PhotoPolitic cancels an event, registrants will be offered a full refund.
Should circumstances arise that result in the postponement of an event, registrants will have the option to either receive a full refund or transfer registration to the same event at the new, future date.
Event Cancellation by Participant
Refunds will not be available for registrants who choose not to attend an event or simply have had a change of plans.
All refund requests must be made by the attendee or credit card holder.
These above policies apply to all events produced by PhotoPolitic unless otherwise noted in the corresponding event materials. Please read all individual event information thoroughly.
Do You Have Questions About This Event?
- All fields are required. -